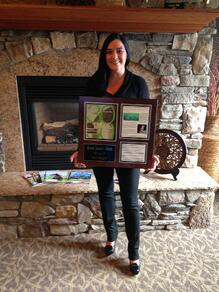 Having been recently honored by the REALTOR Magazine as one of their "30 under 30" honorees, Kristi Tanner Mock is one real estate agent that has established herself as a woman to watch.
As the Kristan Cole real estate webpage proudly proclaims, "Kristi joined the Kristan Cole team in 2010." Kristi's addition to the Kristan Cole team came after an education and career in criminal justice. Instead of becoming a criminal lawyer like she had originally intended, Mrs. Mock found that she could help more people in her hometown by becoming a real estate agent and helping to drive the local economy.
Kristi has earned a solid reputation among home buyers and sellers with her attention to detail, strong work ethic, and dedication to her clients. In the short time since joining the team at Keller Williams Realty in Wasilla, AK, Kristi has become a strong and respected team leader.
Not only did Mrs. Mock make the top 30 out of over 400 applications for REALTOR Magazine's "30 Under 30," she was the number one Web Choice contest winner with over 2,800 votes. This is even more significant considering that Kristi Mock is only the second nominee from Alaska to even make the "30 under 30" list in the entire thirteen-year history of the contest.
Mrs. Mock was humble about her victory in her interviews with REALTOR Magazine, attributing her victory to how "everybody kind of rallied together to not just support me but the state of Alaska." While having friends in high places supporting you by encouraging people to vote can help, it takes hard work and dedication to even be considered for such a top-rank honor in a nation-spanning contest. As Mrs. Mock told Realtor Magazine, "I didn't stop there. I was also diligent in leveraging key contacts within my sphere's sphere." It was by being a hard worker who worked her resources thoroughly that Kristi was able to secure her place as a top Realtor in her region and gain national recognition as an agent to be watched.
The sometimes harsh conditions of her native Alaska have failed to phase Mrs. Mock so far, as she rides around in her trusty snowmobile to reach client locations to perform her duties. Sometimes, Kristi faces unique challenges in trying to sell properties in the Wasilla area, such as how "some properties will have four barns and chickens and lambs. And you'll think, 'How am I going to market this?'" However, Kristi does not let such challenges impede her drive to close sales, she uses them as an impetus to be more driven and creative.
Mrs. Mock recently decided to celebrate her achievement in becoming a "30 Under 30" nominee by having her REALTOR Magazine articles immortalized in plaque form by In The News.
Kristi's custom crafted and engraved plaque preserves her accomplishments as reported by her favorite publication so that she can share with her customers and friends both the story of her national notoriety, and the evidence that proves her claim.
When a new client sees Mrs. Mock's custom plaque proudly displaying the nationally-distributed article adorning her office wall, they will know that they are dealing with a real estate agent with an established reputation for hard work and excellence in the field of real estate negotiations. This establishes credibility with new clients in a compelling manner that allows them to see for themselves the proof of Kristi's reliability and strength as a realtor.
Much more than a simple, impersonal business award issued by a faceless organization, Kristi's In The News plaque is an attractive display for her story from a publication that visitors to her office know and trust as a reliable source of information. One of the best drivers for sales success is gaining the trust of new customers, and an In The News plaque is a great way to establish credibility for a sales person, and with that credibility comes trust.
Plus, each In The News plaque is custom crafted and professionally arranged in order to best present your story and catch the eye of friends and customers alike. Simple and elegant wooden plaques such as Mrs. Mock's plaque are timeless and dignified, which makes them equally at home in your house or at the office.
In The News plaques also make for a great way to simply celebrate your news-worthy accomplishments. Each plaque can be used as a conversation piece to discuss with friends and family as you reminisce about your favorite memories of yesteryear. Plus, these plaques are long-lasting and durable, so they can preserve your story for decades beyond the end of that issue's circulation.
In The News was proud to help Kristi Tanner Mock immortalize her achievements for the benefit of her friends, family, and business. We wish Mrs. Mock continued success and headlines as a pillar of the Wasilla, AK community and as an up-and-coming businesswoman.
If you would like to immortalize a major accomplishment in your life or the life of someone you know, please try out our custom plaque creation process today.