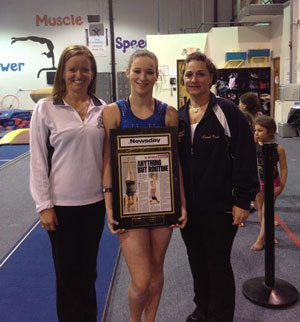 The world of High School and Collegiate athletics can be a high pressure environment for any aspiring young athlete, but for young girls seeking to become top-ranked gymnasts, the challenges are extraordinarily tough. Even compared to other sports, gymnastics places incredible physical and mental demands upon participating athletes.
As reported by the futureofgymnastics.org webpage, women's gymnastics is in a state of decline at multiple levels, despite a strong audience interest in Olympic gymnastic events. Specifically, the number of opportunities available for women to get into a gymnastics program has dropped by more than 50 percent from 1981-2001.
In order to even be considered for College-level gymnastics, aspiring gymnasts need to consistently be able to score extraordinarily high on the charts, 9.0 or better. As a matter of fact, it is estimated that by the time a gymnast reaches College age, she will have done over 5000 hours of training during high school. This statistic does not even represent the extreme high-end of training time for some athletes; it is reported as being the norm for the vast majority of female gymnasts by MIT.edu. This is equal to 208.3 days of training in a four year period of time, or 125 40-hour weeks. This means that the time investment for an aspiring gymnast is almost equal to trying to hold a full-time job while still attending school.
Despite these obstacles, two remarkable young women on the Bethpage High School gymnastics team are not only managing to handle themselves admirably, but are making headlines for themselves and their school.
Alexis Fraher and Sarah Ciresi are two up-and-coming gymnasts who, through their hard work and dedication, have taken the recently-gutted roster of the Bethpage High School gymnastics team to victory in two consecutive county championships. Yes, these two athletes had to cover for the loss of ten senior competitors from their team, and their former team captain, and made earning their victories "continue to look effortless" as the Long Island Newsday article featuring their story states.

Sarah Ciresi, who is now the team's co-captain, scored a solid 8.30 for her performance on the balance beam and walked away with a 34.150 composite score for the competition. When asked about Bethpage's chances in the next competition, Ciresi was optimistic, saying that "obviously we can do it, because we won the team championship, but we want to win both and we've been trying to do that for a couple of years." Having to cover for the loss of so many of her former teammates, and still managing to earn victory in the intensely tough and competitive world of gymnastics, demonstrates that Sarah Ciresi is a talented athlete who deserves to be watched both now and in the future.According to the article, Alexis Fraher managed to perform a front-front vault technique quite admirably despite being in a state of recovery from a sore back. In her interview with Newsday, Fraher declared her long-term goals loud and clear: "I want to be part of a college team, and, since I'm a freshman, that just means I have to keep working." With the skill, determination, and drive she exhibited at the county competition, Fraher has clearly demonstrated that she has what it takes to achieve her goal.
In fact, as of the Sewanhaka District competition on January 30, 2013, Ciresi has achieved nine all-round victories for the season. With the combined efforts of the two young competitors and their teammates, Bethpage has managed to achieve a long series of wins in this most recent season, and they typically trounce their opponents. Recent scores have the Bethpage team winning 170.4 to 102.75, 163.45 to 136.45, and 159.7 to 137.5. The closest competition Bethpage had was in Plainview JFK, which was a very narrow 172.8 to 172.5.
If these two talented young women continue to push the limits of their skill, they could have a bright future waiting for them as NCAA gymnasts.
Recently, Alexis Fraher's accomplishments were immortalized with an In The News plaque of her Long Island Sports article titled "Anything but Routine."
With this plaque commemorating the star athletes of Bethpage High, Alexis, Sarah, and their teammates can have a keepsake that stands out from their team's other trophies. Now the Bethpage High Gymnastics team can share their accomplishments and story with the rest of their school through their news article as it was written by their favorite newspaper of choice.
In The News plaques are designed to last for decades, meaning that the plaque featuring Alexis and Sarah's story will be able to inspire future generations of aspiring athletes long after the two girls have moved on to other athletic opportunities.
It was the privilege of the In The News team to help these special young women celebrate and preserve their story for the enjoyment of their friends, family, and classmates.
If you want to celebrate the achievements of someone special in your life, try out our custom plaque creation process today.