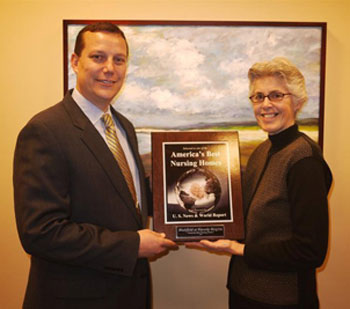 For the fifth consecutive year, Muirfield at Waverly Heights received an overall rating of five stars in U.S. News & World Report's fifth annual Best Nursing Homes. When reporting on nursing homes, U.S. News aims help readers find a home with a strong track record of good care. U.S. News & World Reports provides readers information to improve their quality of life, focusing on issues such as health care, education, travel, vehicles, among other topics. The "Best" series, which Muirfield was proudly featured in, includes rankings of hospitals, colleges, high schools, mutual funds, nursing homes, and more.
Prioritizing initiatives to enhance well-being have helped Muirfield earn this five star honor. The staff is dedicated to maintaining resident comfort, accelerating recovery, and preserving independence and dignity.
"We are extremely proud of this accomplishment and of our staff whose expertise and dedicated efforts to quality care who make this possible," said Thomas Garvin, president and CEO of Waverly Heights, on the non-profit's website.
Out of almost 16,000 facilities across the nation, the top nursing homes in each city and state are selected and featured for the Best Nursing Home 2013 ratings. Data is retrieved from the federal agency, Centers for Medicare and Medicaid Services (CMS). CMS collects information for the long-term care facilities based on three categories - level of direct care staffing, quality of care, and Department of Health inspections. In January 2013, CMS announced their data and U.S. News awarded the five star overall rating to Muirfield.
"It is a credit to our team of nurses, certified nursing assistants, therapists, physicians and other support staff who provide quality, comfort and care to our residents," said Meg Guenvuer, MA, NHA, Vice President of Heathcare Services at Waverly Heights, on the non-profit's website. Guenvuer encourages those looking for a nursing facility to place a loved one to not only consider the CMS ratings, but also to visit the facility.
"It is important to make sure that a community meets the needs and interests of your loved one, that the staff will assist him or her in this important transition, and that you see for yourself the quality of the care."
Muirfield offers residents private, comfortable places to call home, alongside comprehensive medical care and community entertainment. To better meet the needs of residents, an inter-disciplinary team of physicians, nurses, certified nursing assistants, social workers, therapists, and registered dieticians is provided to meet individual needs. Residents also have access to dermatology, audiology, laboratory services, dental care, pacemaker checks, psychiatry, podiatry, rheumatology, vision care, and x-ray services.
As the recognized local leader in nursing home facilities, Muirfield provides the highest quality programs, amenities, healthcare, and services for senior living. Residents enjoy on-site physical, occupational, and speech therapy services. Food service includes three meals a day of personalized meal plans, diet and nutritional counseling, and beautiful dining room scenery. Personalized healthcare is rounded out with a knowledgeable and compassion nursing staff and an on-site pharmacy.
Formerly the estate of Pennsylvania railroad executive Samuel Rea, Waverly Heights opened in 1986 as the non-profit Continuing Care Retirement Community. Another community landmark serving Waverly residents is the stately Manor House, located central in the Waverly Heights community. Built in 1912, the Manor House now provides bed-and-breakfast lodging for Waverly resident guests. Manor House guests can make themselves at home in the living room, dining room, and library. Combining excellence in healthcare with comfortable living is just one reason why Muirfield at Waverly Heights in an industry leader in nursing home care.
Waverly Heights has been offering exceptional independent living for over 25 years. Providing personal care and skilled nursing services, Waverly Heights continues to meet and surpass standards of excellence in management, financial stability, and quality of care.
Waverly Heights has a wide, all-encompassing campus with a selection of over 200 apartments and villas for residents to choose from. From a comfortable 800 square foot apartment to a spacious 5,100 square foot, two-level villa, Waverly has it all. Apartment living features a library, billards room, and ping pong, along with close proximity to the croquet court, horseshoe pit, rose garden, putting green, and greenhouse. Villas are scattered across the Waverly Heights property and have access to the community amenities, including vegetable garden, walking paths, and heath center.
Muirfield is conveniently located in the Health Center, along with Windsor Personal Care, Devonshire Memory Support, and physical and occupational therapy. Decorated and furnished to create a home-like environment, the facility offers spacious rooms with private bathrooms. Many amenities are available for Muirfield residents, including 24/7 visiting hours, therapeutic recreational programming options, access to the beauty shop, laundry services, cable and Internet, and transportation to and from doctor's visits. Along with long-term care, Muirfield also houses a short-term wing for recuperation after hospitalization, respite stays, rehabilitation, and end-of-life care.
The facility at Waverly Heights is an all-inclusive setting for loved ones to enjoy life and care for their individual medical conditions. Muirfield earned the highest-awarded five-star rating for Best Nursing Homes based on care level of staffing, quality of care, and Department of Health inspections. The award showcases their commitment to skilled nursing, comfortable living, and excellence in personal care.
In The News was thrilled to create this personalized plaque for Waverly Heights to celebrate their fifth consecutive year earning the five-star rating for Best Nursing Homes from U.S. News & World Report. Muirfield directors decided to commemorate this success. Visible to staff, residents, and visitors, the customized plaque is proudly on display for all to see.
Created specifically for Muirfield at Waverly Heights, the personalized plaque is a decorative representation of years of hard work and bar raising! As a non-profit Continuing Care Retirement Community located in Gladwyne, Pennsylvania, Waverly Heights is proud of their care, commitment, and history. The professionally designed plaque includes a beautiful image representing U.S. News & World Reports and the title awarded by the publication.
In The News was honored to work on this 'badge of honor' for Muirfield at Waverly Heights. Our wish is the plaque becomes a permanent trophy showcasing their commitment to excellence in care and service. We look forward to seeing Muirfield continuing to earn five-star ratings for many years to come!