Plaques have been used throughout history to commemorate achievements and to honor the past. They are permanent reminders of victories, accomplishments, and tribute. Worldwide, plaques are used to commemorate the biggest events in history. From national historical milestones and natural landmarks, to entertainment hotspots and memorial sites, plaques serve as public reminders for all to see.
Some locations warrant dozens of plaques! Legendary Fenway Park, home of the Red Sox, has 100 plaques posted around the stadium. The plaques highlight facts and locations within the historical stadium, including vintage ticket booths, movies filmed on location, and memorable stadium events. One plaque, located at Box 36 near home plate, is dedicated to life-long fan, Lib Dooley. Ms. Dooley, as the plaque states, "attended more than 4,000 consecutive Red Sox home games over the course of 55 seasons." Plus, she didn't miss a single game between the years 1944 and 1996!
The sidewalk on Library Way in New York City is another great location with dozens of plaques. Since 1998, forty-four plaques by the sculptor Gregg LeFevre adorn the sidewalk. As a celebration of the world's great literature, the plaques features quotes from famous authors and history makers, such as Kat Chopin and Thomas Jefferson, along with a visual representation of the quotes. One humorous example is a quote from Francis Bacon, "Some books are to be tasted, others to be swallowed, and some few to be chewed and digested…" Along with this quote was a sculpted image of books with bites taken out of them. The city of New York has the Grand Central Partnership and the New York Public Library to thank for this history-telling addition to the city.
Along with commemorating milestones, like the Fenway Park plaques, and celebrating achievements, like the Library Way sidewalk, plaques also serve as great reminders of tribute and honor.
New York is the home of a large plaque installation that has had a particular strong impact on current generations. At the corner of Albany and Greenwich Streets in lower Manhattan, you'll find the entrance to the 9/11 Memorial. The site serves tribute to the terror attacks of September 11, 2001 and the World Trade Center bombing in February 1993. Two reflecting pools that feature the largest manmade waterfalls in North America are the centerpieces of the memorial. Surrounding the pools, you'll find 2,983 names inscribed in bronze plaques, all names of those who died. The memorial honors those who died during "the largest loss of life resulting from a foreign attack on American soil and the greatest single loss of rescue personnel in American history," states the 9/11 Memorial website.
Another great example of tribute is the Hoover Dam memorial. Designed by Oskar J.W. Hansen, a Norwegian-born sculptor, created a special plaque to commemorate the lives of 96 men who died during the construction of the Hoover Dam and the bas-relief series. The plaque reads: "They died to make the desert bloom. The United States of America will continue to remember that many who toiled here found their final rest while engaged in the building of this dam. The United States of America will continue to remember the services of all who labored to clothe with substance the plans of those who first visioned the building of this dam."
Another wonderful purpose for plaques in our world is to mark locations of history significance. Worldwide, you can find plaques marking homes, buildings, and battle sites, digging history out of the books and on the street for the world to see.
A great example of a city showcasing history is London's blue plaques. Founded in 1866, about 850 plaques can be spotted on buildings highlight literary figures, artists, scientists, and other historical figures, linking notable figures. According to English Heritage, the blue plaque initiative "commemorates the link between notable figures of the past and the buildings in which they lived and worked." One plaque hangs outside No. 23 Brook Street showcasing a location Jimi Hendrix stayed. Another tells where Mark Twain lived for a year at No. 23 Tedworth Square. And another highlights No. 287 Kennington Road, where Charlie Chaplin was born in 1889.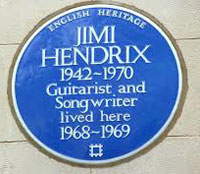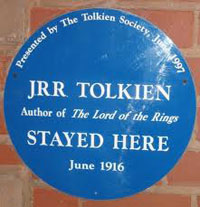 Similar to the London blue plaque initiative, highlighting a town's history for local visitors and tourists is another great purpose for plaques. Recalling past battle sites can help give others perspective on the town's history. For instance, Fairlington, Virginia, contains one of many historical sites from the 1800s, including the site of Fort Reynolds that was constructed in 1861 to command the approach to Alexandria during the Civil War. You can find another of many examples in San Antonio, Texas, at the entrance door to the Alamo. A humble plaque simply states: "Be silent, friend. Here heroes died to blaze a trail for other men."
Plaques are also great ways to celebrate accomplishments. Adding a plaque to a library, city hall, a public park, or other community centerpiece is a wonderful way to honor local achievements. The Pennsylvania Historical and Museum Commission dedicated at plaque at a high school track stadium to Olympic gold medal winner Walter B. Tewksburg for his achievements and involvement in the community.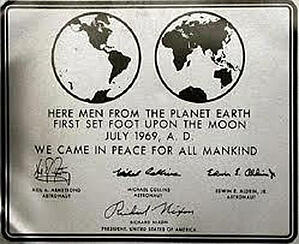 Another great example is the lunar plaques. The plaques were attached strategically to the ladders on the descent stages of Apollo 11 through Apollo 17. Excluding Apollo 13, whose mission did not land on the moon, all the Apollo lunar plaques were left on the moon. The plaques are now on the moon and not on visible display, however reproductions were given to foreign governments.
Can A Plaque About Your Company Add to Your Local Community?
Plaques serve the same purpose for our businesses, showcasing achievements and history. By recalling our past, educating our visitors, and celebrating our accomplishments, plaques highlighting your business in the news can add value to your location.
As a business, displaying your plaque at your office location is a great opportunity to advertise. Promote your company's professionalism and recent achievement by commemorating a magazine or newspaper article in the form of a customized plaque. A plaque from In The News is great way to remind visitors and current clients why your company is amazing and what you bring to the table.
If your organization has recently been featured in your local newspaper or magazine, we would love to tell you more about our personalized plaques and how they can benefit your business. Similar to famous moments in our nation's history, your company is important to your community. A customized plaque is a great way to proudly showcase your company's victory and history!