Quentin Van Essen is the Executive Director of Admissions for Dordt College in Sioux Center, Iowa. Van Essen earned his Bachelor's degree in Secondary Education from Dordt in 1970 and earned his Master's degree in School Counseling from St. Cloud State University in 1978.
While earning his Master's degree, Van Essen simultaneously made his living as both a teacher and a guidance counselor at Central Christian High School in Prinsburg, Minnesota from 1970-79. After earning his Master's degree, Van Essen went back to his alma mater to pursue a long-term career. For a decade, Van Essen served as the director of career planning and job placement for Dordt; and, in 1990, Essen assumed the chair of the Executive Director of Admissions. It is a position that he has filled with dignity and distinction for over 23 years now.
This Leota, MN native enjoys spending his free time doing, as he puts it on his profile page for Dordt College, "gardening and yard work, golfing, camping, and spending time with my grandchildren." Van Essen's dedication to and pride in Dordt is matched only by his dedication to his family and his values. Friends and associates frequently describe him as "one of the most positive people" that they have ever had the pleasure to meet. Quentin Van Essen, through his service at Dordt, has touched the lives of countless students and helped them to achieve success in their own lives.
In recent years, Dordt College has consistently ranked in the top 10 of Midwestern colleges according to U.S. News' College rankings. Under Quentin Van Essen's watchful eye, Dordt maintains a 78% admission rate, and as Forbes.com reports, "Within six months of graduation 96.1% of Dordt students are employed or in graduate school." Van Essen's efforts to guide the right students to the Christian Reformed Church of North America-affiliated College and support them throughout their scholastic careers has resulted in an excellent success statistic for the College's graduates.
According to the college's 2013-2014 statistics on U.S. News, Dordt College boasts 1,384 students, with a roughly even split between male and female students (52% and 48%, respectively) on its 150-acre campus. Close to 90% of the students live in facilities located on the campus itself or in nearby apartments. Being a Christian College, Dordt offers students the chance to participate in student-led worship services.
For the last 16 years, Quentin has had plaques made for Dordt College to celebrate their placement on top college lists such as the one in U.S. News' publication. Each year, Quentin takes a new plaque and hangs it on his wall alongside the others. By displaying these plaques, Van Essen's commitment to excellence and his pride in his institution have been on display for every prospective new student to see.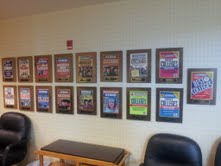 Each time a student approaches Van Essen's office, they are stopped dead in their tracks, awestruck by the sheer amount of history and proven success on display. Seeing these plaques shows visitors the long, storied history of excellence that Dordt possesses. Teachers, staff, students, and alumni can also see this wall of plaques and take pride in the fact that they have played a part in this college's story of success. A story of success that began with the college's founding in 1955.
The In The News plaques hanging on Quentin's office wall bring home to visitors the repeated distinctions that Dordt has earned as a top-ranking college, and demonstrates the reliability of the college in its support of students. Being a top-ranked institution means more than having a high graduation rate (which Dordt has), it means being an institution that cares about students enough to guide and help them after their collegiate schooling is finished so that they can continue to be successful in the adult world. It also means having staff who care about their students, especially people such as Quentin Van Essen who take pride in their institution as well as take an interest in the bright young minds that have been placed in their care.
Although his contributions as an Executive Director of Admissions is impossible to quantify, there can be little doubt that Quentin's efforts have made a significant impact on the lives of his friends, co-workers, and students at Dordt. As a man who has worked for the college since before many of its students were born, he has become an institution of his institution. His presence has long since become a pillar of Dordt's success as a top-ranked college and it is hard for some to imagine the campus without his reassuring presence.
Recently, Quentin made the decision to retire from his position at Dordt so that he can spend more time with his family and grandchildren. While we here at In The News will miss having regular contact with our friend, and his colleagues will miss him even more, we wish him a fond farewell as he focuses on being present for his family and loved ones.
Even though he might be leaving the college, Van Essen's contributions to Dordt College will not be forgotten for as long as the plaques he commissioned are on display to remind others of his contributions.
Van Essen's legacy, and the legacy of every person who he ever helped at Dordt, is preserved in his custom plaques. Every In The News plaque carries with it the comfort of knowing that your story will be preserved so that it can continue to inspire others and keep the memory of your accomplishments alive.
With a professionally-arranged, designed, and engraved article plaque, you can immortalize your accomplishments and share them with not only your immediate friends, but also future acquaintances you have yet to meet. Whether you want to make your mark on history for the benefit of posterity or simply want a keepsake to remember your proudest moments, a custom plaque is a great way to commemorate your achievements.
If you want to celebrate and preserve your accomplishments to share them with the world, try out our custom plaque creation process today.
If you want contact Gail Walton, a senior sales rep who assisted Quentin Van Essen on his order call 1-800-548-3993 Ext. 3036 or email gwalton@inthenewsonline.com