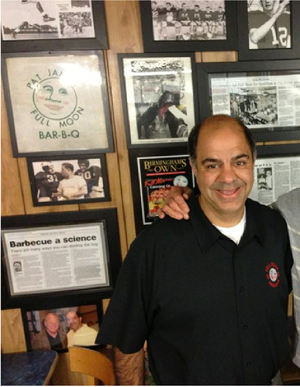 Joe Maluff is the co-owner of the Full Moon Bar-B-Que restaurant chain based in Birmingham, Alabama. Joe, along with his brother David, bought the franchise back in 1996. Since then, the two have expanded their business from a single location in Southside to nine locations situated around the Birmingham area, and yet more restaurants on the way.
Joe Maluff, now 47, was a twenty year veteran of the restaurant business before joining his brother in acquiring the Full Moon Bar-B-Que restaurant which launched Joe's career as a business owner. Maluff cut his teeth working in various Alabama and Florida restaurants from the young age of 15. It would seem that even at a young age, Joe knew he was destined to be a force in the restaurant business.
Although Joe is a family man with a wife and two kids, he and his brother both know the importance of a strong work ethic. In an interview for The Birmingham News with Roy L. Williams, the two brothers were quoted as not even dreaming "of taking a vacation during the Fourth of July holiday." In a town that loves its barbecue, July 4 is a make-it or break-it day for a restaurant chain like Full Moon and the brothers are dedicated to making their restaurant the best in all of Alabama.
When asked his opinion of why the Fourth of July is such a major barbecue holiday along with Memorial Day and Labor Day, Joe responded that "It's all about the tradition of the four F's -- family, friends, food and fireworks. Barbecue and holidays go hand in hand." A major part of Full Moon's success can be attributed to the owners' understanding of why people love barbecue. They know that great barbecue is about more than just food, it is about sharing an experience with family and friends.
Joe and David reinforce the barbecue experience with their customers by only using good, homemade food and some Southern hospitality. As the Full Moon Bar-B-Que webpage proudly proclaims, "everything at Full Moon is homemade — from the famous Full Moon chow-chow to the baked-fresh-each-day Half Moon cookies."
The results of the Maluff brothers' emphasis on quality and service are hard to dispute. As David Maluff reports in the interview with Roy L. Williams, "When we took it over, this restaurant was a small, husband-and-wife operation doing about $400,000 to $500,000 a year in sales. We made no changes and were able to increase sales to around $1.5 million a year, thanks to good old-fashioned hard work and emphasis on freshness and personal service." The fact that the brothers managed to triple revenue at the restaurants is impressive. That they did it without making the kind of shortcuts in service and quality typically associated with new management proves the brothers' work ethic and effectiveness as business owners.
The Full Moon business has proven to be incredibly resilient against disaster as well. When a tornado destroyed their Tuscaloosa location, the brothers provided income, health insurance, clothing, and food to the 18 employees who were affected by the loss of their workplace. While the location was being re-built and updated, Joe and David even opened up a temporary location in an old Mexican restaurant to keep their workers employed. The owners of Full Moon have gone to great lengths to aid their workers, and are thankful that none of their workers were killed by the tornado.

The brothers even helped during the disaster recovery efforts by feeding survivors and catering for the disaster relief and clean-up volunteers. Going above and beyond the duties of the average local business owner helps set these two pillars of the Birmingham community above their peers.
In recent years, Joe and David's hard work and superior business ethics have earned them distinction from Gayot.com as one of the "Top 10 Barbecue Restaurants in the US."
While Gayot declined to assign a particular order to their list, they did take care to mention that they are not arguing with Full Moon's self-assigned label of being "the best little pork house in Alabama." Gayot also recommends visitors to the restaurant try out Full Moon's rib sandwiches, fried green tomatoes, and their half-moon cookies.
Considering the number of competing barbecue restaurants in Alabama, and across the U.S.A. as a whole, including far-reaching franchises such as Sonny's and Applebee's (neither of which made the list), being a top-ten barbecue restaurant is a truly Herculean feat. None of the other barbecue restaurants in Alabama made the list, either.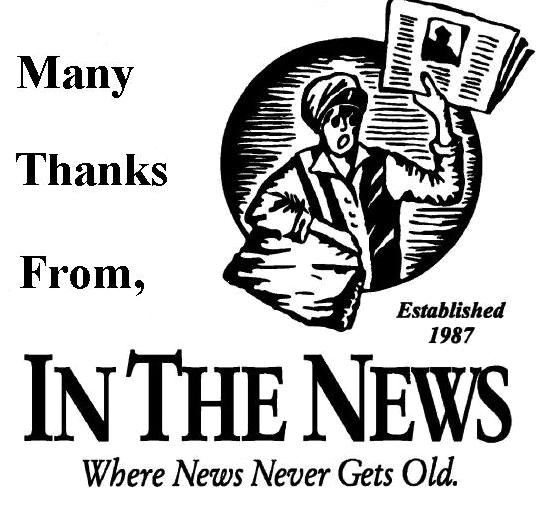 Recently, Joe Maluff had In The News help him commemorate his achievement with his very own ebony and silver wooden plaque of his article in the Birmingham Business Journal. This plaque, which is one of many commissioned the Alabama business owner, gives Joe's customers the chance to discover the tale of Full Moon's national acclaim as a top-ranked barbecue restaurant.
Joe's timeless, professionally arranged and engraved plaque makes for a great trophy to showcase his accomplishment and help build excitement for his restaurant. By immortalizing his story with his very own custom plaque, Joe can share his story with customers, friends, family, and new acquaintances for decades. The attractive framing gives his plaque a bold visual appeal that draws attention to his story while the plaque itself keeps the story safe from the ravages of time.
We wish that Joe and his brother David continue to enjoy success as they maintain Full Moon's title as "The Best Little Pork House in Alabama" for years to come.
In The News frames and custom awards plaques make for bold and impressive trophies to display your greatest achievements as reported by your favorite publications. Each plaque is durable and attractive: grabbing attention and lasting for years.
Keep your most prized accomplishments alive with your own custom-crafted plaque today.