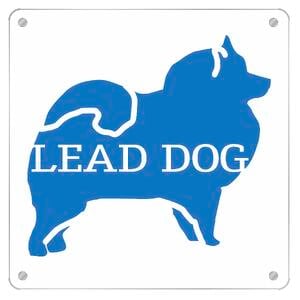 When you are walking down the street or through a packed mall, what is the first thing you notice about any of the businesses as you stroll on by? How is it that you can identify a business and what it is that they do?
For most people, the first thing that they notice about a business during their initial visit is the business' sign. That all-too-important first point of contact between you and the casual customer who happens to see it. As pointed out on business advice sites such as intuit.com, "a well-crafted business sign is critical to making a good first impression on potential customers — and building brand awareness." For a small or new business, getting customers to recognize your brand and interested in your store can be essential to your long-term success.
To draw attention, your retail storefront sign needs to be clean, easy to read, distinct, and informative. In The News acrylic signs are professionally designed, custom crafted display pieces that are as inventive and colorful as your company is. Wooden text sliders on the corner of your building just cannot compare to having a full-color logo and name display hanging over your storefront.
Speaking of hanging your sign up, how can you best display your sign? As was said before, the storefront is usually the best place for your sign, so that customers can see it and your store and be enticed into walking in. However, here are a few quick tips to keep in mind as you hang your sign:
Keep your sign within easy "eye level" - As pointed out by smallbizviewpoints.com, having "the right sign in the wrong place is useless." If your sign is too high up, passing drivers will not be able to see it from the road, and foot traffic may still miss it. Generally, signage should be kept at or below the second floor of the building.

Keep obstructions in mind- Are there a large number of telephone or power lines in the way? How about trees, vines, or other foliage? If people who are passing by cannot see the sign, then it almost might as well not be there for them. Keeping your sign clear of obstructions that block line of sight can mean the difference between a customer stopping in to check out your store and that same person strolling right past your door.

Do not place your sign too far from you business- It does no good to have that perfect, eye-catching sign that grabs customer attention if the customer cannot find your business after seeing the sign. Ideally your sign should be within a few hundred feet of your business, if not on the storefront itself. If you are placing a sign on a road leading to your business, make sure it is large enough to read and has quick, easy-to-understand directions to your location such as "On the right at the next light" instead of "Ahead 22.3 miles off of exit 230, then left onto Burgman Dr. for three miles, then right onto Dale Jr. Rd. 2 miles on the left." If your sign is that far away from the business, odds are customers are not going to go that far out of their driving path to see it. Even if they wanted to, remembering that many directions up at once makes it very difficult for most people to read and retain that info.
Of course, there is more to the art of displaying a sign than just hanging it in the right spot, after all, the sign is there to draw attention to your business. Having a poorly-designed sign that fails to entice customers or give them the information they need to know about your business can be just as bad as having no sign at all. Here are a few tips for designing your perfect business sign to not only draw attention, but actually get customers to visit:
Be informative- First and foremost, your sign should communicate to the people reading it who you are and what you do. Having your company name is good, having the company name and a quick, descriptive word or phrase telling customers what you offer is better. For example, "Crispin's" tells customers who you are, but "Crispin's Deli" lets customers know where to go when they are hungry.

If your sign is large enough, you may also want to consider adding your phone number, email, and/or company web address. This gives customers the chance to contact you directly or visit your company web page where they can learn more about you.

Be brief- While you do want to give potential customers as much information as possible, you have to keep text information as brief as possible. By being brief but memorable, you will stay in the customer's mind more effectively than you could with a literal wall of text.

Have a strong visual graphic- Just a being brief with your text is important, having a simple, bold graphic image also helps with getting customers to remember you. Think about the biggest fast-food companies in the business, such as McDonald's, Burger King, and Taco Bell. Their logo signage is simple, brightly-colored, and incorporates their name in big, bold letters. In most of these cases, you could probably show the average consumer a shadowed outline of these logos and they could correctly identify them 98% of the time. A well-designed sign is that memorable.

Don't be afraid to experiment- Sometimes, your first design just is not a hit. Or, people get used to the everyday image that you have been using for a long time. Either way, trying out a new layout or design for your signage can help reinvigorate the attention of local shoppers. In the worst-case scenario, people might come in to check out the "new" business and find the shop that you have been operating for years.
Overall, with a strong, informative, well-designed and placed acrylic sign, you can grab customer attention and bring more foot traffic into your store. But, the benefits of an acrylic sign do not end at the front door.
Inside your business, acrylic signs are great ways to call attention to specific areas of the store and draw customer interest in products or services you want or need to move. The clear edges allow the sign to blend with the décor of almost any location so that it never looks out of place or "tacky."

Whether you need to capture attention and bring customers to the store or want to create attractive displays for your business' interior, an acrylic sign from In The News can be a great way to guide customers to and through your business.