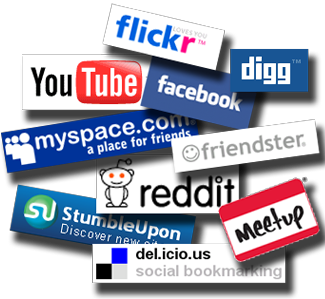 One of the key benefits of having a plaque made of your business' positive news article or press release is that it gives employees, customers, and potential clients the chance to see and engage with your positive press. While this can actually be a powerful motivator for generating business, you, as a business owner or high-powered sales representative, need to use every resource at your disposal to boost your company's revenue stream in order to stay profitable and competitive.
One of the major tools for keeping your company and its positive press in the public awareness is the use of social media websites. These websites include such familiar names as Facebook and LinkedIn, but as time marches on, new social media networks are coming into their own and creating new avenues of contact with customers. One of the newest social media sites that has begun to grow rapidly is Pinterest.
What is Pinterest?
Pinterest is a social media network that focuses on visual content such as pictures and videos. The act of adding a post on Pinterest is called "pinning," while the actual post is called a "pin." A series of related pins is referred to as a "pinboard" in the lingo of this social site. Being a visual content site, Pinterest is easily accessible for most users.
As the about page on Pinterest reminds users, every pin on Pinterest links back to the source, giving people on the Pinterest network the opportunity to see for themselves the origin of any content added to the site. This means that if you post a video of news coverage about your business to Pinterest, customers can follow the link to its source and see for themselves that it comes from an authentic source that they can trust.
How Can I Use Pinterest?
Since Pinterest pins link back to their sources, you can promote your business article by sharing it on Pinterest and allowing users to see the source of the information. This helps to build your business' reputation with Pinterest users while generating excitement and curiosity for your brand.
Other uses for Pinterest that have been postulated by advice sites such as SocialMediaExaminer.com include:
Increasing Your Brand Authority- By adding content that is informative and accurate to your Pinterest board, you can earn the trust of your Pinterest followers so that they come to regard you as an accurate and reliable source of information. It is important to note that you do not necessarily have to create each and every pin you share yourself, but you do need to properly credit your work, and use only sources that you can verify as being accurate. Sharing a pin that has good information helps build up your reputation as a reliable source of information, sharing a pin with bad information does you no good at all.

Expanding Your Reach- This is a major goal of any company that is using any major social media site. After all, you want to reach a larger audience so that you can generate more sales. One way to accomplish this goal on Pinterest is by collaborating with other Pinterest users, or "pinners." This collaboration usually takes the form of shared posting, where one partner will post content from the other. If you were to get a pinner to post your content to their page, you give your content exposure to all of that pinner's followers, which greatly increases your reach on Pinterest. Of course, a collaboration should make sense, so you would not approach a pinner who generally posts automotive enthusiast-oriented content if your business is interior decoration (unless you have an interior decoration feature that is automobile-themed). Ill-planned or nonsensical cross promotions confuse your company's message and may actually cost you followers on Pinterest.

Driving Traffic to Your Site- If you are posting pins from your own website, you are driving more traffic to your company site. Because, as mentioned before, your pins link back to their source, so if you post a piece of content from your site, you are creating an opportunity for a Pinterest user to click on that pin and follow it back to your website. Of course, not just any old image will do. As Cynthia Sanchez reminds readers in her article, the most successful pins "combine great images with content to solve a problem, inspire, offer something desirable or appeal to interest in a hobby or activity."
Another piece of advice regarding the use of Pinterest to promote your business is that your Pinterest boards should be focused on a single topic at a time, and you should update their content regularly. By focusing on a limited number of topics and boards at a time, you give yourself a chance to create the kind of quality pinboards that achieve recognition, and consequently, followers. Preferably, any pinboards you create should be on topics that are of interest to your company and/or your company's customers, as these are the boards that will bring in customers that are prepared to engage in business with you.
Also, you can link your Pinterest account to your non-corporate Facebook account, giving your FB followers a chance to engage with your Pinterest content and vice versa. You can take advantage of this to cross-promote your social media networks and bring new contacts from one site or the other to your other networks and build customer interaction with your brand. Unfortunately, at this time, Pinterest does not engage with a corporate Facebook account. However, since you can post content from your website to Pinterest, this handicap is not too severe an impediment.
As Pinterest is a visually focused site, your content should also be eye-catching and interesting to look at, as dull or repetitive content can bore a casual visitor quickly and cause them to lose interest. Keep your content informative, visually varied, and engaging so as to promote your business more effectively and reach more customers.
Remember that like any social media site, Pinterest can be a powerful tool if leveraged effectively. With it, you can share your company's news stories with a new audience that consists of hundreds of thousands of users, and promote your corporate brand. But, like any tool, it needs to be used carefully in order to do its job effectively.
If you would like to learn more about our product, please check out our product page to see what In The News can do for you.