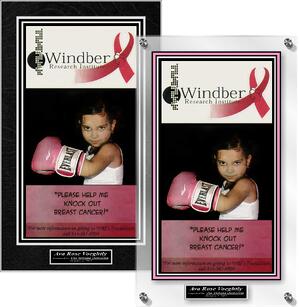 As you may or may not be aware, October is National Breast Cancer Awareness Month, a month dedicated to raising awareness about the causes of breast cancer, and how it can be treated or prevented. This special month is sponsored by numerous organizations, including the American Cancer Society, the American College of Obstetricians and Gynecologists, the Susan G. Komen for the Cure foundation, and the National Medical Association, among others.
During this month, you may just see a slightly increased amount of pink on the websites that you visit, such as on ours, as different organizations and businesses try to help raise awareness about the problem of breast cancer faced by women across the entire world. As reported by the ACS, "about 39,620 women will die from breast cancer" in the United States alone. Breast cancer is the second-leading cause of cancer death in women, topped only by lung cancer. Because of the prevalence of breast cancer as a risk factor in preventable death, many organizations now highly recommend that if you are a woman nearing or in your fifties, you should have a mammogram done of your breasts done in order to spot cancer cells before they progress from non-invasive Carcinoma In Situ (CIS) cells to full-fledged invasive breast cancer cells.
Currently, early detection remains one of the best ways to prevent breast-cancer related fatality. As the chart for the survival rate of breast cancer shows, your odds of surviving pre-invasive breast cancer and stage I breast cancer with treatment is nearly 100 percent. However, women with stage II breast cancer have a 93 percent survival rate. Women with stage III cancer have a 72 percent survival rate. Unfortunately, if you have stage IV cancer, there is only a 22 percent chance for you to survive treatment. This large drop-off in the survival rate of cancer victims is the reason why it is so important to undergo testing on a regular basis. Waiting for the cancer to become serious enough to start displaying symptoms before seeking treatment can severely impair your chances of survival.
Thankfully, the tireless efforts of foundations such as Susan G. Komen for the Cure has helped to make early screening for breast cancer a normal part of routine health maintenance. Because of these efforts to promote early detection and treatment, the mortality rate of breast cancer has declined by 33 percent since 1990.
Another foundation at the forefront of the battle against breast cancer, and one that you might not have heard of before, is the Windber Research Institute, or WRI. Created just prior to the year 2000, WRI began as an initiative of Congressman John Murtha, who was then the Chairman of the Defense Appropriations Subcommittee, that was started as a response to the poor state of "the military's women's health care capabilities and breast care in particular" and the experiences of "a close friend diagnosed with breast cancer who described to him the impersonal, disjointed treatment she received." Eventually, this project would grow to become WRI, and the Joyce Murtha Breast Care Center at the Windber Medical Center would be established as a laboratory dedicated to improving women's clinical care.
One of WRI's current projects is the Clinical Breast Care Project of the Comprehensive Reproductive Systems Care Program, or CRSCP. This program is dedicated to reducing the severity of breast cancer in women and reducing the number of breast cancer-related fatalities. Just last year, Windber was featured in the DDNews for their work on a new study titled "DW4TR: A Data Warehouse for Translational Research." This study is expected to help generate "personalized cancer therapies and improve patient outcomes," according to the DDNews article. By collecting an exhaustive storehouse of knowledge and information about risk factors, patient history, and treatment, then placing such data in a single source, the DW4TR makes it easier for doctors and scientists to perform clinical risk assessments.
WRI also manages a tissue bank containing "large numbers of high quality and well annotated normal and diseased tissue specimens." WRI has five isothermal freezers with the capacity to store 36,000 specimens per freezer. This gives WRI a truly massive pool of specimens for use in their research projects and allows for a comprehensive analysis of how a treatment may affect healthy and unhealthy tissues.
While breast cancer continues to be a threat for all women across the globe, the efforts of organizations such as the Susan G. Komen for the Cure foundation to raise awareness about the risk factors and need for treatment, and the research-oriented organizations such as WRI that continue to pioneer new treatments and research ways to improve the thoroughness of the breast cancer information available to all members of the scientific community, have greatly blunted the impact of cancer on society. Every day, these organizations, and the people behind them, work to protect you, and millions of women like you, from the dangers of breast cancer.
In honor of Breast Cancer Awareness Month, In The News has made a very special option available for those of you who wish to show your support for the fight against breast cancer: A new pink trim for your crystalline or wooden plaque. With these pink-trimmed plaques, you can demonstrate your dedication to supporting the cause of putting an end to breast cancer related fatalities, and improving the quality of life for all women who are at risk.
If you would like to show your support of breast cancer awareness and research, please try out our plaque creation process and make your own proud announcement about breast cancer research today.
By helping to raise awareness about breast cancer research, you too can make a contribution to ending this menace to women's health.