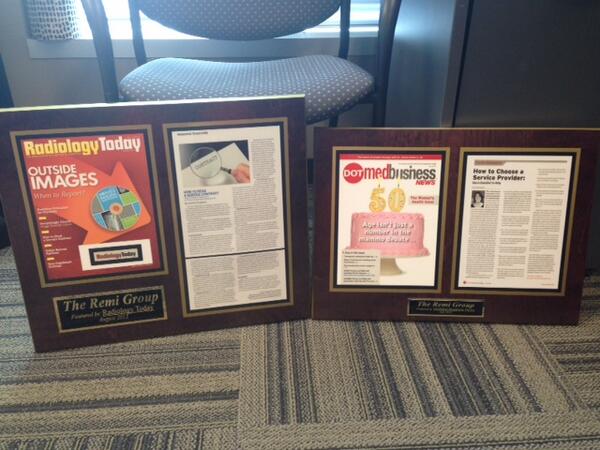 Jennifer Daugherty is the head of Public Relations/Social Media for the Remi Group, a provider of comprehensive equipment maintenance management programs that are specialized for hospitals, healthcare providers, government agencies, colleges & universities, and other businesses. As the head of PR and Social Media, Jennifer is responsible for the brand image of the Remi Group. To this end, she manages the company blog, social media accounts, article marketing, and press releases, among other responsibilities.
Given the extensive list of responsibilities that Mrs. Daugherty has to contend with on a daily basis, it would be surprising that anyone in her position would have time to write articles for other publications. However, Jennifer has done guest articles for not just one, but two separate publications.
For the trade magazine DOTmed Business News, Jennifer penned an article titled "How to Choose a Service Provider: Use a Checklist to Help," giving advice to businesses about selecting an equipment repair service provider for the large, often expensive machines found in many medical clinics and hospitals. Throughout the article, Jennifer gives readers solid, actionable advice that is easy to understand and makes sense.
For the magazine Radiology Today, Jennifer writes an advisory article that provides readers with tips about what they need to look out for in a service contract from a maintenance service provider. In this article, Jennifer introduces the SMART method for reviewing a service contract to readers. SMART is an acronym for:
Service period
Maintenance services
Additional coverage
Replacement parts
Termination of contract
By creating a checklist of contract issues for readers, Mrs. Daugherty makes it easier for businesses to make intelligent decisions regarding who they contract for critical repair services to the equipment that makes their work possible. Her care and attention to detail are a part of what makes the Remi Group special as a corporate entity, and so worthy of national attention.
Before joining Remi, Jennifer began her professional career back in 2000 as a customer service specialist for Hynes Incorporated. Jennifer spent most of the next decade moving up in the corporate world through hard work and dedication, and became an executive assistant at Remi in 2008. She then began building a career with the Remi Group, moving on to become a business development coordinator, and eventually taking charge of the company's public relations and social media marketing duties.
Beyond Jennifer's professional dedication to ensuring that businesses are able to receive the proper maintenance for the equipment they need in order to function, she is a dedicated family woman with two children and acts as a pillar of the North Carolina community. As a part of her public relations duties, Jennifer organizes the Remi Group's participation in charity fundraising events such as the Friendship Trays (a Meals on Wheels affiliated program), the Charlotte Rescue Mission, and The Remi Children's Fund for the Levine Children's Hospital.
The Remi Group is fortunate to have such a talented and driven woman at the helm of their PR efforts. The ties she forms with local and online communities help build not only her own positive reputation, but that of the Remi Group as well. It is because of the above-and-beyond efforts of people such as Jennifer that the Remi Group is able to fulfill their promises to provide customers help "every step of the way" from start to finish, as well as making Inc.com's 5000 award for two years in a row for being one of the nation's fastest growing privately-held companies.
While the Remi Group itself does not perform maintenance, they do give their customers the ability to optimize their maintenance costs. This allows businesses to operate more efficiently on the ever-tightening budgets of today's economy.
To celebrate her recent trade magazine articles, Jennifer and the Remi Group commissioned a pair of custom wood magazine article plaques from In The News. These plaques make for great in-office displays to celebrate Jennifer's accomplishments in being published in nationally distributed trade articles.
The classic wood finish and custom engraving of Jennifer's article plaques gives the presentation of her articles a timeless, classic quality. The professional arrangement of the articles ensures that they are attractive and easy to read. Employees of the Remi Group offices can see these plaques and know that they can achieve notoriety through their hard work and dedication.
Every In The News article plaque give you the security of knowing that your article from your favorite publication will be preserved in pristine condition for decades. Simply nailing a magazine page to the wall will last only for a few weeks before the pages begin to yellow and crack, or even tear apart. Preserving your treasured article in a plaque, however, gives your story added durability to withstand the elements.
If you have a news article you would like to preserve, you can try out our custom plaque creation process today. To learn more about the benefits of having a custom plaque for your business, please contact us for further information.