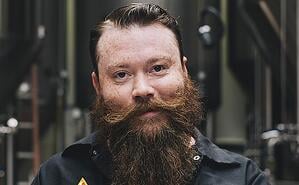 Who is the guru of brew known as Will Golden? This resident of Austin, Texas is the proud co-founder and co-owner of Austin Beerworks, a relative newcomer to the Austin brewery scene. Along with his business partners Adam DeBower, Mike McGovern, and Michael Graham, Will has taken Austin Beerworks from being an unknown newcomer to being a force to be reckoned with as a brewery. Considering that Austin Beerworks is only one of eighteen breweries in Austin, TX, that's quite the accomplishment for a brewery that started in 2011.
In that first year of operation, Austin Beerworks' Peacemaker Extra Pale Ale won a silver medal at the Great American Beer Festival in the English-Style Summer Ale category. Earlier this year, their Black Thunder brew won a gold medal for the German-Style Schwarzbier category. This is a herculean feat of brewing for a small start-up brewery. Why? Some years, the GABF judges do not even give out awards if no beers meet their standards, so earning awards so early in the life of the brewery really demonstrates just how great Will and his team are at crafting the perfect brew.
This excellence in the brewing process is probably the result of Will's dedication to brewing. A decade before he ever opened the doors to his brewery, Mr. Golden went on a two-week trip to Europe where he discovered the Duvel brew, a Belgian strong golden ale. Will Golden's encounter with Belgian golden ale sparked in the young entrepreneur to be a desire to learn more about how brews are made. Fast forward through ten years of research and development, as well as gaining practical experience working for other brewers, and Will is now the proud co-owner of one of the best breweries in Austin.
Beyond winning top honors at the GABF competition, Austin Beerworks brews have been quickly adopted by the Austin community. Even though they are 100 percent self-distributed, and only do local distribution, Austin Beerworks is stocked by several retailers and has been called "one of the fastest-growing craft breweries in the country" by publications such as the New Yorker. Even with the local-only distribution, the people of Austin love Will's beer so much that they can barely make it fast enough to meet demand.
Why the focus on local distribution despite high demand and rapid growth? As Will himself told Tribeza.com in an interview, "We do this not because we want to get rich, we do this because we love beer." Will and his crew are dedicated craftsmen who want to make the best beer possible for the sake of the beer. It is this dedication to doing things right instead of doing things the easy or cheap way that makes Austin Beerworks such a spectacular producer of quality craft beers.
Of course, there's more to Will's crew than just superb skill at brewing. There's also their sense of humor and creative energy. Visitors to the Austin Beerworks website are greeted with a strong precautionary "Are You Over 21?," but once past that screening page, visitors are plunged headfirst into a colorful site full of fun facts about the brewing process and the nature of their different brews. Will's website even proclaims that "We brew beers that we like to drink— and these are our favorites. So we're putting our best foot forward – we just happen to have four of them" when explaining why Austin Beerworks has four basic types of beer instead of just one or two like other breweries.
As a dedicated brew craftsman and as a businessman, Will Golden is a one of a kind personality.
Recently, Mr. Golden decided to celebrate his brewery's accomplishments by preserving his story in the Tribeza article in the form of a commemorative mahogany plaque from In The News. This plaque, formed from durable mahogany, will be right at home among Will's office or home. Better yet, this plaque will last for decades so that it can continue to inspire Will's brewery crew by reminding them of what makes them, their brewery, and their beer special long after the original article is out of circulation.
For visitors to Golden's office, the plaques' professional arrangement and engraving creates a compelling presentation to draw attention and create conversation. Decades from now, Will's family will be able to see the story of how he exploded onto the Austin draught-crafting scene and started making award-winning ales straight out of the gate.
We here at In The News were proud to be a part of Will's story by helping him to preserve it for future generations. We hope that he continues to be a success and earn awards for his top-quality draughts (and that he shares some with us sometime).
If you would like to create your very own custom article plaque, please try out our plaque creation process today.
To contact Jeff Bayne, the sales specialist who helped Will with his order, please email him at jbayne@inthenewsonline.com or call him at 1-800-548-3993 ext 3090.