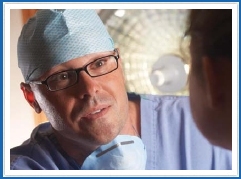 Dr. Mark P. Seraly, MD, is a Dermatologist who has both a board certification and over two decades of experience. Born in Brunswick, Maine, and raised as part of a Navy family, Seraly often credits his father's influence, and his grandfather's OCD tendencies, for his success in life. He began his medical career as a graduate of the Jefferson Medical College in Philadelphia, Pennsylvania, and completed his residency as a dermatologist at the University of Pittsburgh.
During his career as a dermatologist, Dr. Seraly has authored 30 medical publications and has been invited to guest lecture over 180 times both in the U.S. and abroad. Dr. Seraly is also an accredited member of the Annenberg Circle, a specialized group of dermatologists who are dedicated to the advancement of skin disease research, with the hope of finding cures to these highly visible ailments. To this end, Dr. Seraly has donated generously to the cause.
Since opening his current practice in McMurray, PA back in 2009, Dr. Seraly has maintained an A+ rating with the Better Business Bureau through consistently high-quality service and patient care. In a search on the BBB website, of the 38 dermatologists listed on the site, only two have a BBB accreditation. To not only have a rating, but the highest one possible, demonstrates just how successful Seraly's practice is at providing quality care and answering customer concerns.
Beyond simply being a highly effective dermatologist in the office, Seraly is a visionary who is trying to revolutionize the way in which patients get a diagnosis for their skin conditions. Dr. Seraly's new startup company, Iagnosis, has launched an online dermatology care site called DermatologistOnCall.
On this site, potential patients can take photographs using their digital camera, smartphone, or other device, then upload these photos to the DermatologistOnCall.com website. Once the photos have been uploaded, a board-certified dermatologist reviews the images to identify the skin condition, its severity, and your health risks. Within three business days, one of the doctors will make a treatment plan or even schedule an office visit to confirm the diagnosis.
What makes this so revolutionary is that it makes a professional diagnosis of a patient's skin condition available to people who may be too busy (or embarrassed) to sit in a dermatologist's clinic for hours on end. Even after the initial diagnosis has been completed, there is follow-up messaging between the doctor and the patient for 30 days afterward.
Outside of the office, Seraly is an accomplished sculptor. In an interview for PetersPatch.com, Seraly discusses his scultures, and how they were inspired by his love of the Old West and Native American traditions. When he finishes the basic sculpture, Seraly takes it to a bronze foundry to be casted in bronze. Much to Dr. Seraly's surprise, his work has been included in several private, public, and corporate art collections. Seraly was even commissioned to make a bust of Peter Rossin by the Rossin family. This bust now rests in the Rossin Campus Center at Washington and Jefferson College in Washington, PA.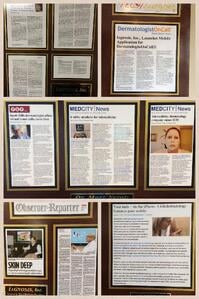 In order to commemorate his many accomplishments both in and out of the dermatology office, Dr. Seraly has commissioned several plaques from In The News featuring the articles showcasing his contributions.
Visitors to Dr. Seraly's office can see the plaques mounted on the wall and know that this dermatologist not only experienced, but is trusted and recognized nation-wide as a pioneer and authority in the field. Every In The News plaque provides not only attractive framing and engraving to draw attention, but the comfort of knowing that customers can engage with the evidence of your authority and reliability. The articles in these plaques are more than just dull awards from faceless organizations, they are stories from reliable local and national publications that people know and trust.
Every customer who sees Dr. Seraly's plaques will be able to read these stories and get to know him and his contributions on a personal level. A simple award lacks that ability to engage with readers and make them understand why the award-holder is special. Having the article there for visitors gives them the ability to get to know more of Dr. Seraly's story and see exactly what he has done in order to be so worthy of recognition.
These beautiful, custom framed and engraved plaques will preserve the tale of how Dr. Seraly has helped to advance the cause of skin disease research and revolutionize the way in which skin care patients can receive diagnosis and treatment for their conditions without the embarrassment of sitting in a room with a bunch of strangers staring at them. Every elegant wooden plaque is built to last, and will keep the stories on them blemish-free for years.
We here at In The News are proud to have helped Dr. Seraly preserve his story for future generations, and it is our hope that he continues to make headlines for his contributions to healing skin disease.
If you would like to preserve your story for future generations, try our custom plaque creation process today.