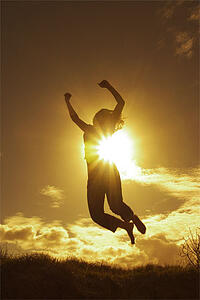 After a long period of intense research, of establishing data, then double and triple checking it, and then compiling and interpreting it, you have finished your research thesis. Even better, your research was so significant, ground-breaking, and original that it has received attention from several scientific and respectable news magazines. You even have a shiny new plaque of the article for your office as a trophy.
This is no small feat. So, after you take a few moments to sit back and bask in the glory, you should ask yourself "what's next?" What can you do after becoming a nationally-published author of respected research? Rather than simply resting on your laurels and expecting recognition to come your way from any single magazine or research journal entry, you may want to make sure that people learn about your research and how important it is.
To this end, you may need to help people find your research article so that they can read it for themselves. While people who are part of your particular field of research will likely read the publication you have just been published in, it is important to know that many people who may be affected by the results of your research may not. You owe it to yourself, your research, and the people who can benefit from learning about your research to make sure that your research becomes common knowledge.
How can I Reach People?
One way a lot of people try to reach a large audience is through television. Unfortunately, paying for a prime-time TV ad spot on a major channel where people will see it is prohibitively expensive. Even if you have the resources to make the cost of a TV ad a non-issue, the existence and common use of DVR devices allows millions of people to simply skip the ads on their favorite shows.
That is not to say that TV is useless to you, not by a long shot. If your research is socially significant, you may be able to get a TV spot on a major news channel or talk show. Just be aware that you will be just one of thousands of people who are trying to get "free" publicity.
Other traditional methods of promoting news, such as billboards, radio ads, and mail leaflets are all too limited or expensive to use for the average researcher to see much benefit for their research.
What's the Alternative?
Instead of relying on traditional methods of media distribution, you may want to try out online media.
For example, if your research is not reaching enough of the people who would benefit from it, because the people who can be helped by it do not read research journals, you can set up an online press release system to get your research placed where people can find it. Sites such as Onlineprnews.com can help you develop a press release and get it placed on websites that target the interests of the people your research is relevant to. One of the great things about using online PR distribution is that you can track the usage data, so you know how much people are engaging with your research.
Press releases are an ideal platform for getting your research information out to the world, but there are other methods of distributing information online. Another powerful tool for getting information to people is social media sites such as Facebook, Twitter, and LinkedIn. With millions of active users on any of these sites, they can be invaluable for rapidly spreading the word of your research to the world.
The trick with using social media to promote your research is knowing who your target audience is. Some sites are focused more towards business professionals (LinkedIn), while others are more for mass market appeal (Facebook and Twitter). If your research is medical in nature, such as information about a previously-unknown cause of cancer, you can use Facebook or Twitter to reach a large number of people quickly. If your research is more focused on financial concerns, such as a projection of market trends for the next few years, or the impact of a new technology on business practices, LinkedIn might be able to reach more people who can be helped by your research results.
You may also be able to reach a large public audience by creating a video documenting your research, including your methods and key findings, then posting that video to your YouTube channel. Many people who would skip reading a written article about your research because they lack the time to read it, or would find such content "boring," will pay attention to a video about your research.
If you want a lot of people to remember what it is that you have said, try to keep your video simple, but entertaining. Avoid using technical jargon whenever possible. If you have a non-expert friend, get them to sit down and watch the video with you. Having a layman's perspective on how easy your research is to understand can help you avoid falling into the trap of talking over the heads of your intended audience.
Another benefit of creating a YouTube video is that many social media sites will let you post links to your YouTube account, creating a bridge for your followers on one site to view your content on the other, increasing how visible you (and your research) are on both.
There are many more ways that you can use the internet to promote your research online. If you would like to see how you can promote your research, please read our eBook about promoting your featured article on the link below: