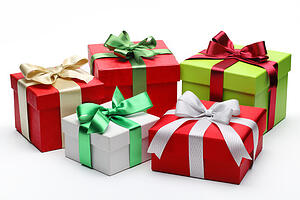 Oh, November, that time of the year when people all across America are preparing for the coming winter. The air begins to get a little cooler, and, depending on where you live, you might even have snow already. Children are gearing up for snowball fights and praying for snow days, while homeowners check their house's insulation and top off the antifreeze in the car. Before you know it, the whole neighborhood will be a winter wonderland.
Following hot (or is that cold?) on the heels of the arrival of November is the holiday shopping season. Many people struggle to find the perfect gift for the people who are most important to them during the holiday shopping crunch. Every year, there are holiday horror stories about the stress of dealing with long lines at the store, and the impossibility of finding a truly unique gift that tells people how much you care.
So, how can you make sure that the people who are special to you get a gift that they will be able to cherish for years? Something that is unique to your bond with them? What can you get that shows them that you care, and that you have put some serious thought and consideration into your gift for them?
Gift Ideas
For many people, the answer is to fall back on old-school holiday favorites for last-minute gifts, such as flowers, chocolate, or clothes. While flowers and chocolates are a perennial favorite, they are often seen as the final resort of someone who couldn't be bothered to plan ahead for the holiday season. Clothes, while certainly personal, can backfire horribly as a gift.
You want to make this Christmas special, and give a gift that will deepen the bond between you and the person receiving your gift. The present that you give should help you build a future with this person by celebrating your shared past. The question is, what kind of gift could accomplish all of these goals?
Rather than buying your significant other a cheesy tie or cheap sweets for Christmas, have you thought about a permanent, elegant, and personal gift that they will enjoy for years?
In other words, have you thought about getting a commemorative plaque from In The News?
Why is a Plaque Such a Great Gift?
You might be wondering, "isn't In The News the company that makes article plaques? What if I've never been in a magazine or newspaper, what would I make a plaque of?" While we here at In The News are known for our plaques featuring magazine articles, we offer so much more. We can make a plaque of any important document you have, or we can even plaque a photograph or other small item for you.
Imagine being able to preserve your wedding photos with a professionally arranged and engraved plaque that is as eternal as your love. You and your spouse will be able to share the tale of your wedding day with friends and family, and you will be able to rest easy knowing that your favorite photos from that special day will be protected from the ravages of time and the elements because they have been sealed within the plaque.
Commemorating such an event with a plaque shows your spouse how much you care, and are dedicated to preserving the eternal bond you share. These plaques can be a symbol for your connection with the person you love the most.
Of course, not every plaque has be from such a monumental, life-changing moment. You can also create a plaque of a small, everyday personal moment from any photograph. We can use both a physical copy of your photo, or you can email us a digital copy of a photo for use (as a general rule of thumb, emailed photos should be at least 300dpi). The important thing is that this photo is personal to you and the person you are giving the gift to.
Don't be stuck in the holiday shopping doldrums, create the perfect gift with the personal touch today with an In The News commemorative plaque for that special someone this holiday season. Preserve your favorite moments, celebrate your relationships, and give someone special a gift that will be a part of their lives for a long time to come.