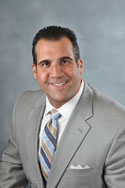 John Cunningham is the President and CEO of Vehicle Tracking Solutions, a company that provides GPS-based services to businesses in the areas of Connecticut, Long Island, New York, and New Jersey. With the help of his wife and Chief Financial Officer, Karen Cunningham, John has grown his small startup business into an enterprise with over $10 million in revenue.
The service that John's company provides can track how a company's fleet of vehicles is being used, and provide methods of optimizing the use of these vehicles to improve efficiency. For example, if a customer service call comes into the call center for a tow company, they can send the nearest tow truck that is equipped for the job, instead of having to rely on individual drivers to know their relative positions to the client compared to other drivers. This improves the ratio of downtime to time spent earning money, which increases the profits of the company using the vehicle tracking.
The vehicle tracking service also prevents the unauthorized use of company vehicles. By tracking the locations of all company vehicles at all times, the company owner can know when a vehicle is being used to make money, or when that vehicle's gas, miles, and maintenance are being burned up on shopping trips and other non-company activities, especially on company time.
Vehicle Tracking Solutions also offers programs that monitor how fast drivers are going in certain areas, to ensure that they are not speeding and creating public safety hazards. When drivers know that they're being monitored, they tend to keep the rules of the road in mind and drive more safely, rather than taking insane risks with company property to get one car length ahead only to have to sit at the next traffic light anyways.
Another key benefit of Mr. Cunningham's vehicle tracking program is its use as an anti-theft measure. If a vehicle is reported stolen, the vehicle tracker can be used to pinpoint its location for the police, increasing the chances of recovering your vehicle before it is stripped for parts or damaged. If owners are particularly vigilant about the usage patterns of their vehicles, they may even be able to spot a theft before a driver can report it. In one case, a logging company was able to track a stolen wood chipper worth $40,000 dollars quickly enough to recover their property and even catch the thief.
By reducing the illicit use of company resources for side work, lessening the impact of vehicle theft, and promoting safe driving practices, Vehicle Tracking Solutions helps not only their customers, but the communities of their customers. How? Enforcing safe driving practices makes communities safer, while making thieves worry about whether or not the vehicle they're planning to steal is being GPS tracked helps to discourage auto theft in the area.
The theft and illicit use deterrents built into Mr. Cunningham's vehicle tracking program were cited as major reasons why several municipalities have contracted Vehicle Tracking Solutions for their services. As Jersey City Mayor Steven M. Fulop said in Newsday, "With this program, we are creating mechanisms of accountability. Any employee who takes a city vehicle outside of city bounds or uses it for a purpose other than city business, we will know and we will discipline such behavior."
While John is currently experiencing great success, he worked hard to get to this point. When he and his wife began the company, they put everything on the line, borrowing against Karen's 401(k) and remortgaging their home to fund their business in 2002. If you ask John why he's enjoyed such success and he'll answer that it's because of "my business partner and the strongest thing I have going for me in my life," which is his wife, Karen Cunningham.
Despite the challenges of starting a new business and a new family at the same time, Mr. and Mrs. Cunningham have managed to juggle their responsibilities to clients, and employees without sacrificing their family values.
To celebrate his company's recent article in Newsday, John commissioned a new plaque from In The News, their ninth so far. The sleek, modern appearance of John's crystalline article plaque gives it the ability to match any style of décor without clashing. The professional arrangement and engraving gives John's plaque the ability to draw attention to his article in both the home and the office.
The adaptability of crystalline acrylic plaques makes them ideal for use as gifts as well, which is great for John, as he orders one for his office, one for his house, and a third plaque for his mother so she can have a keepsake of her son's success. These plaques can fit in almost anywhere because their clear finish will not clash with the existing décor.
Beyond simply being highly-attractive displays for John's positive press, crystalline acrylic plaques are also durable, and will last for decades to come. These plaques protect the stories contained within, preventing unsightly yellowing, cracking, and tears that could otherwise ruin the display of the article.
Whether at home or in the office, an In The News crystalline acrylic plaque is a great way to display your favorite featured article about yourself or your business.
If you would like to contact Jamie Bursiek, please call In The News at 1-800-548-3993, or email: JBursiek@inthenewsonline.com.