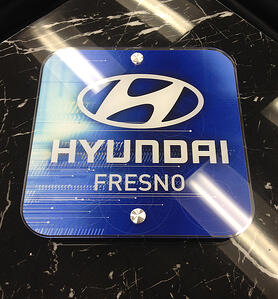 Mike Giusti is currently the Head of Advertising and Marketing at Lithia Motors. While his profile lists him as working at the Fresno dealership, he is actually responsible for helping Lithia's advertising department to create and maintain multiple dealership websites for Lithia Auto Stores.
A graduate of the University of California, Riverside in 1992, Mike began his career as an Assistant director for the CYO (Catholic Youth Organization) Caritas Creek Education Program in 1990 while he was still attending school. During his time at CCEP, Mike helped the program by teaching in the classroom, as well as hiring and training other teaching staff. Mike would remain a vital part of the Caritas Creek program for more than six and a half years before moving on to join Hocus Pocus Magic in 1997, where he cut his teeth as the company's Senior Web & Graphic Designer and Web Administrator, a position he held until February 2011.
Never one to take it easy, Mike would continue to hold multiple positions simultaneously throughout his career. As a matter of fact, Mike has been a comedy magician since 1990, working on cruise ships and in corporate settings as a stand-up comedic magician, and has even been a bass guitarist for a Journey cover band on top of his other job responsibilities. Although his time at Lithia Motors has been relatively short in comparison to his other jobs so far, the sheer volume of his job responsibilities there speaks volumes about Mike's indomitable work ethic, creativity, and drive.
In 2012, Mike updated his web and graphic design knowledge (and got a shiny new certification) through a course at the Institute of Technology, during which time he was a web and graphic designer for the school, helping students with their ad copy for projects and assisting instructors as well. The California Institute of Technology was so impressed with Mike's work that he was awarded a Professionalism Award from the school.
Mr. Giusti holds a number of other honors on his LinkedIn profile as well, such as being in the top one percent of the most endorsed illustrators on the site, and a Best Entertainer Award from Royal Caribbean Cruises. While those who know Mike already know that he is an incredible person, a little independent verification never hurts.
Somewhere along the way, Mr. Giusti even managed to find time to do artwork for a Wolverine Graphic Novel and a Blade Runner commemorative poster and stamp, among other guest artwork designs. Mike's consistent creativity and talent for art design has served him well over the years, and he has used his abilities to great effect for the people he has worked with. Mike has the rare ability to flawlessly adapt his artistic style to match the needs of his subject, from the classic comic style drawings of his contributions to Thor, to more post-modern stylized shaded art styles, and even semi-photorealistic drawings of people and places. Mike's talents allow him to be the perfect art designer for whoever he creates for.
Recently, Mike designed special signs for Lithia Nissan Hyundai of Fresno. For the manufacture of these special designs, he commissioned the services of In The News. These attractive acrylic showpieces frame Mike's original designs and give them life even as they protect the custom-crafted images contained within.
The bold blue Hyundai Fresno sign and the effervescent, fun red Nissan Fresno sign will be sure to draw customer attention through their expertly contrasted color schemes and fun, eye-catching designs. The acrylic frames will be sure to keep these signs looking bright and fresh for a long time to come so that they can continue to keep drawing customer attention.
Every In The News sign or plaque is designed to last for decades while preserving the contents contained within. Unlike paper signs, the images within an acrylic sign will not tear, crack, or yellow, staying like-new for a long time. Because these signs are designed according to your specifications with images chosen by you, you can have the comfort of knowing that your sign from In The News will be a perfect match for your business. We can create the perfect professional arrangement for your perfect company sign.
No matter what your custom image is, it can be preserved for display in an In The News acrylic sign for display in your business. In The News can design the perfect plaque based on your specific design choices and the image that you want for your business.
If you would like to create your own custom sign, try out our acrylic sign creation process today. Or, you can contact us for further help and advice about how to design your perfect sign.
In The News was honored to be trusted with the responsibility of helping to craft the designs of the masterful Mike Giusti, and it is our hope that he continues to design great artwork for years to come.