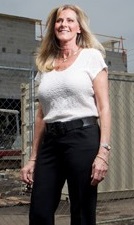 Who is Karen Johnson-Crowther? She is the Principal and Director of Retail Services for Colliers International in Fort Myers, Florida. This dedicated professional has been in the real estate business for over 20 years, surviving the worst that the economic slump could throw at her and helping guide banks through the process of managing repossessed shopping centers and similar transactions.
Karen has been featured in news publications such as the Business Observer, an online publication that tailors itself to C-suite executives (CEO's and the like), for her comments on the state of the retail property market in Florida. She is a driven, focused professional who has an extensive list of prominent clients, including Popeye's Chicken, Quizno's, H&R Block, Dunkin Donuts, Boost Mobile, and Circle-K, among others. She has even earned recognition from Grubb & Ellis in the form of a Circle of Excellence Award.
Karen is a remarkable woman who is truly worthy of recognition for her achievements.
However, Karen's greatest source of pride is not for her own accomplishments, but for those of her son, Chris Johnson, the third baseman for the Atlanta Braves. Chris, who began his Major League Baseball career on the Astros, has wanted to be a ball player all of his life. As Karen told News Press in an interview, baseball has "always been his dream, ever since he was just a three-year-old taking 'batting practice' at 3 a.m. with a tennis ball in the family garage."
Chris' recent acquisition by the Braves marks a turning point in his career, as he now has one of the highest batting averages in the league (.321 according to an MLB.com article, .438 on their stats page). After three sluggish seasons with the Houston-based Astros and only half a season with the Diamondbacks, Chris has become a rapidly rising star thanks to his performance with the Braves.
Mrs. Johnson-Crowther couldn't be more proud of her son for his accomplishments. Being part of a team with as long and storied a history of success during the season as the Braves is a major milestone.
Although Chris was initially designated as a "throw-in" to balance the trade between the Diamondbacks and the Braves, his performance at the plate since his trade has marked him as a player to watch in 2013. In fact, Chris has done so well that some pundits have called Justin Upton, the player who was supposed to be the best part of the deal, the "throw-in" for the trade to get Chris!
All throughout her son's career in baseball, Karen has been a proud and supportive parent. When the time came for the voting for the National League All-Star, Karen organized her friends, coworkers, and family to get them and their friends voting for her son.
For every milestone in her son's career, Karen has commissioned plaques from In The News to immortalize these highlights of Chris' MLB career. Now, she can share her favorite stories of her son's accomplishments with her friends, family, and coworkers with her very own custom-crafted wooden plaques.
Karen's wall of memorabilia has even made the news as well, and she was happy to show the world how much she loves her son in that article. Each and every one of Karen's professionally designed mahogany plaques not only catalogues her son's career, they all serve as keepsakes for a proud mother to demonstrate her love for her son.
Like the motherly love Karen has for her son, these plaques will last for a lifetime. They protect the articles detailing Chris' baseball career from the ravages of time, preventing yellowing, cracking, and tears from ruining the articles.
Every In The News article plaque is professionally arranged and engraved to ensure that the story within is presented in the best way possible. Karen's plaques make for excellent keepsakes to remind not only herself, but her friends, of why she is such a proud mother.
We here at In The News were happy to be able to help Mrs. Johnson-Crowther catalogue, preserve, and present her son's MLB career highlights for her friends and family, and hope that both Karen and her son continue to enjoy success and plenty in their careers.
If you would like to contact Janine Crouch, who helped Karen with her plaque orders, please call 1-800-548-3993 Ext. 3022, or email jcrouch@inthenewsonline.com.