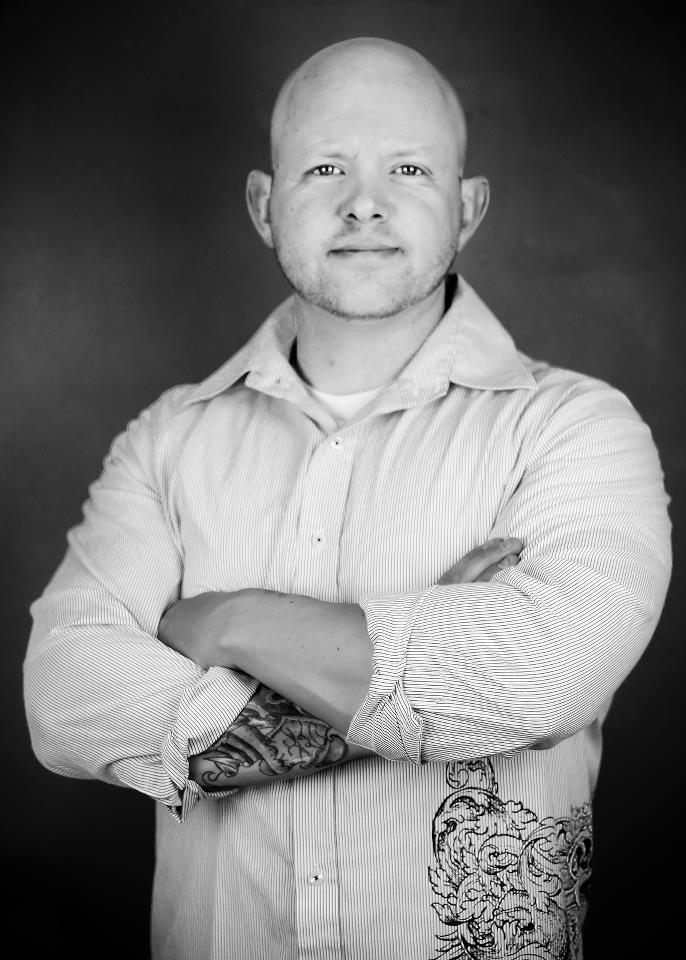 Jake Reining is many things, a husband, a father, a family man, a good friend, an advocate for the rights of others, and one of the most dedicated custom car aficionados in the country.
For years, Jake has worked on adding custom mods to his vehicles, starting small with bolt-on mods for his old 2001 Mercury Cougar before moving on to a 2003 WRX wagon. For all of these early cars, Jake kept the modifications simple, learning the ins and outs of the process slowly but surely.
Mr. Reining's interest in performing more complicated and thorough mods was spurred on by a chance occurrence where his WRX wagon was ruined when an acquaintance was test-driving it, and Jake switched over to a Suzuki SX4 for a while. After this, a friend asked to swap rides so that he could haul parts for a bit. The ride that Reiner got to drive in trade was a heavily customized beast of an EVO VIII.
After driving a super-modded car for the first time, Jake knew he had to make his own ultra-modified ride.
After this fateful vehicle exchange, Jake shopped around for cars that were fun to drive and had a lot of aftermarket parts options, especially turbo-charge mods. Eventually, he had a chance to test-drive the 2010 Hyundai Coupe, and knew that he had found his ideal car.
At first, Jake did not have a very specific vision for what he would do to his new car, starting out with basic mods, just like he had done to his previous three vehicles. When installing his coilovers (a specialized type of automobile suspension), he and his friend recorded the process and posted the video online. This video attracted the attention of Custom Performance Engineering, a company which would become Jake's first major sponsor. CPE gave Jake a laundry list of upgrade parts, which the PASmag.com article says included:
Turbo-back exhaust

Front-mount kit

HKS carbon fiber parts
It soon became clear that Jake's 2010 Genesis was going to be much more than just a basic upgrade.
Reining's Genesis was a guest entry in the 2009 SEMA (Special Equipment Market Association) show, and he even signed up for the 2010 show. At SEMA, Mr. Reining attracted the attention of yet another sponsor, TurboXS, who supplied him with even more parts. This in turn caused his Genesis to attract even more attention, and he gained more sponsors who gave him more specialty custom parts.
Eventually, Jake was able to customize nearly every last piece of his Genesis. Perhaps most impressively, Jake did most of the major modification work on his own. Everything he could do by himself, he did. When he couldn't do it alone, though, he knew he could count on his friends and acquaintances to give him a hand when he needed it.
The results of Jake's hard work and dedication speak for themselves. To look at an image of this ride is to marvel at the beauty of it. Every last piece has been painstakingly cared for to the point of near flawlessness. It is obvious that Jake took a great deal of pride in the creation of this moving work of art.
In fact, when PAS Magazine went to print Jake's article, they held onto it until they could feature his ride on the cover because of how beautiful and picture-perfect the machine was.
Beyond being a marvelous craftsman, Jake is also considerate of his fellow custom car aficionados. Recently, when there was a parts copying scam where an unknown company was selling their products as being the products of one of his sponsors, AirREX, Jake alerted as many people as he could through his Facebook webpage and showed them how they could get the real product that they paid for.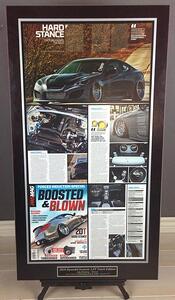 To celebrate his success in making it to the pages of a major custom car magazine, Jake decided to commission a plaque of his car's appearance on the pages of PAS Magazine.
This commemorative ebony and silver wooden plaque is the perfect way to immortalize Mr. Reining's achievement of crafting an award-winning, magazine-cover featured ride. The custom plaque of Jake's custom car will preserve the memory of this feat for decades, so that his children, and even grandchildren, can see the plaque and know that with some hard work and dedication, you can earn recognition for your efforts.
This personal trophy of Jake's achievements will be a proud reminder of the time that he spent lovingly crafting the perfect custom ride and the thrill of making headlines in the auto mod world.
We here at In The News are glad to be able to help people just like Jake celebrate their favorite achievements and immortalize them so that their friends and family can share in the experience as well. It is our hope that Mr. Reining continues to enjoy success as a master custom car artisan and that his works will be featured in SEMA shows for years to come.
If you would like to contact Ryan Sumner, the Senior Account Executive who helped Mr. Reining with his plaque order, please call 1-800-548-3993 ext. 2503, or email him at: rsumner@inthenewsonline.com.