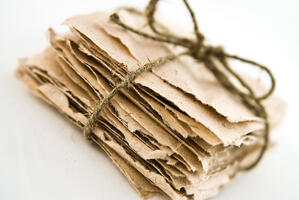 Do you have a treasured news article or other important document that is beginning to decay, fade, or is otherwise damaged? Don't let that precious memento be destroyed forever, get it professionally restored and preserved now!
Over time, newspaper articles tend to become brittle and faded. Why? Because, newspaper is typically made from low-grade wood pulp that is highly acidic in nature. If not carefully prepared and preserved, the paper will literally eat itself, and the literature printed upon it.
Even with the proper preservation, accidental damage can ruin a printed article. From spills to tears, there are far too many ways for old newspaper to become damaged.
When a newspaper becomes heavily damaged, your best option to get it repaired to like-new condition is normally to track down the services of a reputable article restoration expert so that they can repair it. With some hard work and a little luck, a professional restorer can bring your favorite featured article back to life.
However, even a professionally-restored article will begin to fade and decay again as time passes. So, once again, the question comes back to how you can preserve your article so that it will last.
You could make a photocopy of the original article, but it just isn't the same. A photocopy, especially of a damaged paper, simply lacks the presence, the character, the sheer gravitas of the original article. However, it does allow you to put up a "disposable" display while keeping the original in a carefully-prepared non-acidic box in a cool, dry place that is relatively safe from harm.
Another alternative is to scan the original document into an image file for your computer. If your goal is simply to preserve the memory of the article, this can actually be an effective solution. Unless, of course, the computer's hard drive is corrupted by a virus or becomes otherwise unusable.
Displaying the original article where it can be exposed to damage from the elements and common accidents is entirely out of the question… or, is it?
Get Your Article Restored and Preserved in a Plaque
By having your favorite featured article preserved in a plaque, you can kill two birds with one stone, as the saying goes. Thanks to our partnerships with professional restoration services such as JB Effects, In The News is proud to offer top-quality restoration for newspaper articles in addition to our normal custom article plaque creation services.
For nominal fee, In The News can have most articles restored to optimal condition and sealed within a plaque. This way, you are not only getting your treasured article back, but you are protecting it from future damage by sealing it within a protective casing that will still give you the ability to show off your article.
If your original article is in too damaged of a condition to ship, check with us, as we may have our own copy of your favorite article on hand. In The News maintains subscriptions to hundreds of newspapers, magazines, and specialist trade publications across the country. Because of this, we are often able to use our own copy of the article you wish to preserve and display, sparing your article the risk of being shipped long distances and suffering further damage.
You can create an elegant wooden display for your article to give it a classic, almost timeless feel. Such displays are almost always at home both in your house or your office. They create a distinguished atmosphere that can add a touch of professionalism and create a sense of tradition, even when the article itself is fairly recent.
Or, you could preserve your favorite featured article in a clear crystalline acrylic plaque that looks sleek and modern. These plaques are great because they can accentuate almost any kind of décor while still drawing attention to your favorite article.
Either way, your featured article will be sealed inside the plaque, protected from the ravages of air and moisture exposure. This will prevent the yellowing, tearing, and cracking of the article for decades.
If you have a treasured article that you do not want to see fade away into nothingness, contact us today to learn more about how we can keep your favorite article safe for generations to come.