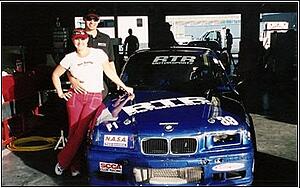 Adam Pela is the owner of Pela Motorsports, a vehicle customization company that specializes in the modification of trucks. For Adam, working with tools is in his blood, but his passion for motor vehicles is what shaped his career. Throughout high school, Adam worked at J&R welding, his future father in-law's business.
After high school, Adam pursued his higher education at the University of Central Florida, focusing on their engineering program and earning a bachelor's degree in mechanical engineering, and later a master's degree in precision engineering with a specialization in high performance engine optimization. While there, Mr. Peela was an active member of the SAE (Society of Automotive Engineers), and even worked on Formula One and Baja competition racing vehicles.
At first, Adam worked as an intern for Gunnar Racing in West Palm Beach, Florida, working as a pit crew member on Porsche race cars. Later, he started working for Boyd Racing in Orlando, Florida so that he could focus more on his school work. However, this strategy of finding work that was less travel-intensive may have backfired a little. As Adam recalls on his website, "I actually had to take on a second job because I spent my whole paycheck at Boyd's on engine parts." Adam's passion for building custom engines was so great that he wound up giving back most of his paycheck to his employer so that he could continue to build more engines.
Adam's extra job came from Tim Takash, of Takash Race Craft, another custom shop that was based in Orlando. There, Adam gained a lot of practical experience in vehicle customization, and doing it the old-fashioned way: hand-built.
To this day, Adam's dedication and passion for crafting high-performance motor vehicle customizations is still strong. Using the knowledge and experience he accumulated during his years in college earning his master's, Adam started his own garage right out of his home. This new business became so successful that Adam decided to expand, officially opening up Pela Motorsports for business in a new facility built to handle the high demand for Adam's work.
Although Adam's life has changed significantly over the last few years, graduating from college, moving back to Jupiter, Florida, and starting a family with his wife Cristie, one thing that will never change is his enthusiasm and talent for crafting top-quality vehicle modifications.
In fact, on several occasions, Adam's work has been featured in custom vehicle publications such as 8-Lug Magazine. In one feature for 8-Lug, Adam is named "One of the top tuners in the Southeast," a high honor, to say the least.
To celebrate his custom craftsmanship's magazine features, Adam decided to have a plaque made of his magazine articles. Actually, Adam has had several plaques made of articles featuring his work. Each one of Adam's plaques serve as a testimonial, a custom-crafted trophy that celebrates his custom-crafted work. These plaques show his customers that Adam is a reliable and well-known and highly-regarded crafter of vehicle modifications.
Much like Adam's college degrees, the articles in these plaques are proof of his ability to give his customers the services they need. The articles that feature Adam's work are evidence that he is a respected professional in his field of work. Not only that, but these articles come from a trusted publication that mod enthusiasts know and trust, so they can know and trust Adam's work in turn.
These articles are also protected by the plaques, sealed away from the harmful effects of oxidation and moisture. Because the articles are sealed in their respective plaques, they will not yellow, crack, or tear like they would without the benefits of a protective environment. This means that Adam and his customers will be able to enjoy these commemorative keepsakes for decades, not the mere days or weeks that the paper would last if not properly preserved.
With every plaque, Adam has his choice of material, from traditional wood finishes to modern-art styled clear acrylic. With such a wide range of plaque options, Adam can customize his plaques to be as business-like or as fun as he wants. So, no matter what his business' décor is, he can have a custom plaque that will complement his custom crafted work.
We here at In The News are glad to have helped Mr. Peela commemorate his magazine features with custom-crafted plaques. It is our hope that he continues to be an influential and successful part of the custom vehicle modification world, and that he continues to make headlines and grab attention for his business with his high-end work and boundless enthusiasm for vehicle modification.
If you would like to contact Albert Brzezinski, an account executive who helped Mr. Peela with his plaque orders, please call him at 1-800-548-3993 ext. 3046, or email him at abrzezinski@inthenewsonline.com.