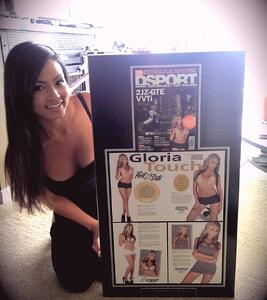 For those who may not already be familiar with her, Gloria Touch is a lovely up-and-coming model who has had appearances in several different magazines including FHM Philippines, DSPORT, and PASMAG, among others.
Before you go thinking that she's just another pretty face, you should know that this centerfold-featured model is a bright, exuberant, and incredibly intelligent young woman. A graduate of Western Washington University, Gloria earned a business degree while there, so she definitely knows how to handle herself financially.
Also, while Gloria certainly enjoys her job, modeling is far from her only passion in life. During the week, she works hard as a broker, putting her higher education to work for both herself and her clients.
On the weekends, however, she unleashes her fun and creative side as DJ Glo, the resident DJ for a popular Seattle club. What kind of music does she play? Well, as she said in her interview for DSPORT Magazine, "I just play what I love and what I know is going to get everyone out there dancing and having a good time."
When Gloria isn't busy modeling, being a DJ, or working as a broker, she likes to unleash her artistic side with painting and drawing. Also, in winter months, she likes to take a break from the world and go snowboarding for fun.
Whatever you do, don't challenge her to a game of her favorite past time of Mercy. As she's pointed out to others, she's the unofficial Olympic gold medalist of this infamous children's game because she's never lost a match to anyone. Gloria is a gorgeous, smart, and strong daredevil of a woman.
From a young age, Gloria knew that she had a future as a model. In one story, she relates how she used to wear a shirt that said "don't laugh, I might be Miss America someday." Although she might not have been crowned Miss America (yet), she has enjoyed great success as a professional model.
As a model, Gloria has done a lot of work for automobile publications such as PASMAG and DSPORT, and was so popular in those magazines that she has been interviewed by both about her past, her dreams, and her likes. In her PASMAG "Model of the Week" interview, she was asked about her favorite cars, and she said that her dream vehicle would be "the Audi R8 V10 in white on black" because of what it has under the hood.
Those who know Gloria know that she is a fiercely dedicated individual. She is a woman who, when she sets a goal, follows her goals until they are met. She does not give up on her dreams, and her ability to pursue a goal until it is accomplished is a large part of why she's such a success as a model and as a person today.
When Gloria makes friends with a person, she dedicates herself to that person. As she told PASMAG, "I value my relationships and will bend backwards for my friends and family." Gloria's sweetness and honesty have helped her win numerous friends and make her a wonderful person to know.
Gloria decided to celebrate her feature in DSPORT magazine by immortalizing it in a giant-sized plaque built to display all four pages of the article and the cover all at once. Now, when friends, coworkers, family, and even agents come to visit Gloria's Seattle home, they can see her feature (which includes some wonderful photos) and get to know Gloria and her work a bit better. Many people in Gloria's industry might know about her work, but it is always nice to have proof of her notoriety to show to guests both in and out of the industry.
Gloria's extra-large wooden plaque is able to showcase her entire article for visitors to see, not just a one-page excerpt. Plus, because every page of her article is sealed within the plaque, it will be preserved against the deleterious effects of exposure to moisture and the air. This prevents cracking, tearing, and yellowing of the article which could turn this beautiful display into an eyesore.
By preserving her article in a plaque, Gloria's story will last for decades, safe from the elements that would destroy a simple piece of paper. This will allow Gloria to share her story with friends and admirers years from now, preserving the happy memories of her youthful accomplishments. Gloria's plaque is as much a personal keepsake as it is a proud trophy or even a résumé builder.
We here at In The News are glad to have helped this energetic, driven, and incredibly wonderful young woman celebrate her feature in DSPORT magazine and hope that she continues to enjoy great success as a model in the future.
If you would like to get in touch with Lanny Zeigel, the account executive who helped Gloria with her plaque order, you can call 1-800-548-3993 ext. 3081 or email him at: lzeigel@inthenewsonline.com.