Alan Vojtech is a man who likes to keep himself as busy as possible. This enterprising CEO does not shy away from the thought of some hard work and effort. In fact, he relishes a challenge.
This entrepreneur has co-founded, owned, or been employed as the CEO of several businesses, many of which were simultaneous. For example, at the time of this writing, Mr. Vojtech works as the chief marketing officer for Innovations Medical, a Dallas-based plastic surgery firm, is still involved with the University Hamper business that he co-founded, and serves as the CEO of two other companies: Vojtech Arms and Femme Noir Swimgerie, which are located in Dallas, TX and Beverly Hills, CA, in order.
Alan attended a four-year program at the Southern Methodist University, and graduated in 2004. Following his graduation Mr. Vojtech wasted no time in assembling and starting his first business, the University Hamper, a business which he is still involved with to this day. Less than a year after co-founding the University Hamper, Alan accepted a position as the CMO for Innovations Medical, a cosmetic surgery practice based out of Dallas, TX.
Alan's position as the CMO for Innovations Medical is one of the jobs that he takes the most pride in. Whenever there is an opportunity for him to help publicize the clinic, Alan gets right to work, conducting interviews and sharing the features with both existing and potential clients.
When there was a feature in the Dallas Business Journal about the thermage skin-tightening process for reducing or eliminating wrinkles, Mr. Vojtech was there, making sure that people knew that Innovations Medical had performed the procedure on over 1,500 patients over the last four years, which is more than any other clinic in the nation.
Alan is more than just a CMO for Innovations Medical, however, he is also their office manager, and even helps with patient consultations as well. Mr. Vojtech's obligations ensure that he always has something to do, and this rolling stone definitely won't be gathering any moss any time soon. Despite his busy schedule, Mr. Vojtech takes some time out every now and again to celebrate the accomplishments of the many companies that he is a part of.
One of Alan's biggest personal successes is his new store, Swimgerie, a store that sells swimsuits based on fashionable lingerie. Alan's sexy swimwear line has earned him a lot of attention, and his products have been featured in popular magazines such as Maxim for their eye-catching combination of sensual bedroom attire and ocean-going swimwear.
Whenever Innovations Medical or Swimgerie is featured in a magazine or news article, Alan celebrates each and every one with a magazine plaque that shows off both the cover of the magazine and the article itself. For customers of Alan's businesses, each plaque is a piece of proof, a certification that each business is reputable and trustworthy.
Visitors to Innovation Medical's clinic can read the articles contained within each plaque and know that they clinic they are going to have their thermage treatment done in is highly experienced with the procedure, more so than any other clinic in the nation. They will know that Dr. Bill Johnson, the primary medical practitioner at the clinic, has worked with such technology since they were still in their medical trials and he is intimately familiar with their operation.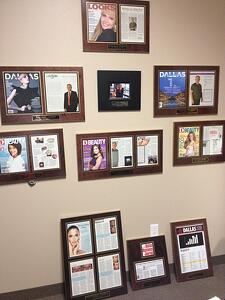 Each beautiful wooden plaque adds to the authority of the clinic, and helps to boost the morale of those who work at the clinic. Whenever a new plaque is added to the wall, it reinforces the fact that the contributions of the whole office do matter. Employees can see the articles in the plaques and know that "I was a part of that story, I helped perform these procedures or worked with those patients."
The same thing goes for Mr. Vojtech's Swimgerie store. Every time one of his swimsuits is featured in a major magazine publication, Alan has a plaque created for that article and he hangs it on the wall of his Beverly Hills, CA store. When his customers walk into his store, they can see that the swimsuits that they are about to buy are highly regarded in the fashion world, and are attractive enough to make the covers of several magazines (a position for which the competition is heavy).
Better yet, each plaque will keep the images from each magazine cover looking as bright and beautiful as the day it was initially printed, as the covers and the articles are sealed within the plaque itself. The pictures showcasing the store's swimwear on high-fashion models are protected from the effects of the air and moisture, so they won't yellow, peel, or crack like they would without the protection of a plaque.
We here at In The News were happy to help Mr. Vojtech celebrate his accomplishments and the accomplishments of his businesses by immortalizing his featured articles in plaque form. We hope that he continues to enjoy success and plenty in his business ventures.
If you would like to contact Frank Moore, a senior account executive who has helped Mr. Vojtech with his plaque purchases over the years, please call 1-800-548-3993 Ext. 3032, email him at fmoore@inthenewsonline.com, or contact us.