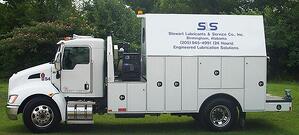 What is Stewart Lubricants & Service? On its surface, it is simply a business that works with mining businesses. After all, their primary field of work is to design, fabricate, install and maintain automatic lubrication systems, such as the ones used in heavy mining equipment. In addition to making automated lubrication systems, SLS also supplies the world class mining grade lubricants that these machines run on. In fact, SLS was incorporated in 1988 with the express mission of providing "service, lubrication, equipment, and lubricants to the mining industry" of Black Warrior Basin, Alabama and other industrial customers in the South-East. Their business has grown since then, adding a location known as SLS West in Gillette, Wyoming.
While the company's Birmingham, AL-based office might be closed on weekends, SLS makes sure that there are there are on-call technicians available 24 hours a day, seven days a week. This ensures that SLS' customers are not left unable to schedule a servicing for their equipment on the weekends or at night. SLS' service trucks are stocked with a range of critical equipment, parts and tools, including a generator and lights so that repair technicians can work safely and confidently on the equipment even in the dead of night.
A key service that SLS offers is their preventative scheduling and services program. As the name implies, this program is designed to make sure that the equipment that is in use gets the proper maintenance that it needs in order to prevent a catastrophic breakdown later. For mining industries, time spent waiting for a technician to get on-site, evaluate the cause of the breakdown, and order the necessary parts before making repairs is time wasted, since heavy mining cannot take place without the right equipment. By doing preventative maintenance, SLS technicians can spot potential problems before they become full-on equipment failures, significantly reducing the amount of time a piece of equipment spends sitting idle, waiting for maintenance.
However, there is more to SLS than its status as an efficient supplier of lubrication systems and other mining essentials. Under the typical façade of efficiency and professionalism, there lies a heart of gold.
Most of the time, when we here at In Then News receive a plaque order, it is for someone who is looking to commemorate a personal achievement, or maybe even a gift for a friend's birthday or other special occasion. SLS, on the other hand, has made dozens of plaque orders not for themselves, their workers, or their families, but for their customers and members of the community. Each one of these plaques is ordered as a gift to be given so that others can reminisce about their own accomplishments.
The great thing about SLS' act of generosity in giving plaques to others is that these gifts will last for decades. Each and every person who has received one of these plaques will be able to enjoy them for a long time to come because each and every In The News plaque seals the article, photos, and other documents and trophies within. The article in each plaque is sealed away from the harmful effects of oxygen, rough handling, and moisture. This effectively prevents yellowing, cracking, peeling, tearing, and fading from ruining the article.
With a plentiful selection of bases, from elegant wood finishes such as mahogany and ebony, to crystalline acrylic, SLS was able to give each plaque recipient the perfect design to commemorate their achievements.
For SLS' customers, friends and associates that received plaques, these commemorative keepsakes not only catalog their greatest achievements that made headlines, but of the relationship that they share with SLS. The people who received a plaque from SLS will see that trophy, and remember who helped them celebrate that moment and preserve it for the future. In short, this customer will remember their relationship with SLS. For any business, remaining at the forefront of a customer's mind is invaluable, and giving a valuable commemorative keepsake is a great way of staying in the customer's mind.
We here at In The News were proud to help SLS' staff, from people such as the hard-working Ta'Nisha Norman, all the way up to company president Rick Stewart, celebrate the accomplishments of others with commemorative plaques.
If you would like to contact Ken Harrison, an account executive who helped SLS with their plaque orders for customers, please call 1-800-548-3993 Ext. 3014, email him at kenharrison@inthenewsonline.com, or contact us.