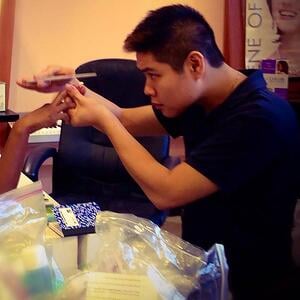 Bryan Vu is a talented young man who has to wear many hats: nail tech, salon owner, and even educator. Even though Mr. Vu is a very young man, he has already become a prominent and successful figure in the field of beauty care.
Not only is Bryan's work routinely featured in nail industry publications such as Nails Magazine, he is the owner and operator of three different business locations. At Venus Nails & Day Spa in Orlando, FL and Oviedo Nail Bar & Body Waxing in Oviedo, FL, Bryan not only makes the important business decisions and organizes other beauticians, he takes clients as well.
Visitors to these locations might be forgiven for not knowing that the person doing their nails is the owner of the business because of Mr. Vu's age. Despite his apparent youth, Bryan is a dedicated expert, and it shows in the way he concentrates on his work. When Bryan is filing a nail to give it the perfect edge, he's all business. However, despite the serious look he gets when he concentrates on the task at hand, he loves to do nails. As he tells his Facebook fans, Bryan works "7 days a week" and enjoys "practicing nails 24/7" instead of going to clubs and drinking.
These two salons have flourished under Bryan's management, and the Venus Nails and Day Spa location now offers their customers Botox services in addition to their regular nail care and massage services. As a beauty parlor owner, Bryan is dedicated to making his client's experience as enriching and complete as possible to make sure that they leave satisfied.
As for Bryan's talents as a nail artist, he does far more than just tack on the polish and call it a day. When he is working on a customer's nails, Bryan's talent as an artist really shines through. He might be wearing his serious face, but he loves every moment of his work and it shows. From simple color and polish jobs, to fun and creative cartoon designs, to legitimately canvas-worthy paintings and three-dimensional nail accessories, Bryan has the skills to make his highly delicate works look beautiful.
Even before he was featured in Nails Magazine, Bryan would frequently share photos of his work online via social media platforms such as Snapchat and Facebook. Not only would Bryan share photos of work he had done on customers, he would also share some high-concept practice nails that he designed as a kind of challenge to himself. The response to his nail pictures has been overwhelmingly positive, people love the work Bryan has published for his followers online.
In fact, sharing his work online in such a manner may have helped Mr. Vu get his work recognized by Nails Magazine. For four months in a row, Bryan has been featured in the magazine's "how to" section, which shares tips and tricks that professionals such as Bryan use in order to create such unique looks for the nails that they work on.
In one such feature, Bryan shared his technique for integrating lace into a nail design to create a bold, unique look. Not just painting a lace pattern into the nail, mind you, but actually putting lace into the nail itself, a process that takes Bryan about two hours to complete for a full set. Bryan attributes the lengthy nature of the procedure to the fact that "when applying the clear acrylic over the lace you must do it perfectly, so there won't be any bubbles" in his Nails Magazine article titled "Lacy & Racy." If there are bubbles in the nail, the effect is ruined, and Bryan does not leave his work in such a state.
The third business that Bryan oversees actually shares an address with his Venus Nails & Day Spa location in Orlando, FL. The Pro-Nails & Beauty School, Inc. is a place for aspiring nail technicians and beautician to go in order to earn the licenses that they need in order to become certified beauticians.
If ever the students at the beauty school doubt the skills and qualifications of this master educator because of his age, the quality of Bryan's work and his certifications from Hand and Nail Harmony should be more than enough to silence his critics.
If his work and official certifications aren't enough to silence a critic, Bryan also has crystalline acrylic plaques of his featured articles in Nails Magazine to back up his status as an authority on the art of nail art. When a new student or customer sees one of Bryan's plaques featuring an article about his work that walks people through how he does it, they know that:
Bryan knows his stuff well enough to teach everyday people how to do nails.

Bryan Vu is a recognized and respected member of the nail art world, so he can be trusted.

Bryan's work is brilliant and beautiful.
Bryan has found that his plaques make people take notice of him and give him respect. People who might have previously not have believed that Bryan is a proven expert because he's still in his early twenties see these plaques and know that they are in the presence of a master artist.
Not just customers, but new coworkers at one of Bryan's recent salon acquisitions can see these plaques and know that the young man who just took over the business is someone to be reckoned with. An important part of team building and getting people to work at their best is to earn their respect, which is something that a display of a featured article plaque can provide quickly when you're still trying to get to know the new people working with and for you.
Even after Bryan gets older, wiser, and even more insanely skilled in the art of nails, his plaques will still be there to showcase his accomplishments to new clients and coworkers. That's because Bryan's plaques seal the article within the acrylic itself, protecting the fragile articles against the ravages of exposure to air. This means that his articles won't yellow, peel, or crack like the magazine itself would if it were to be put on display.
We here at In The News are excited to be able to help talented young people such as Bryan preserve their favorite articles and share them with family, friends, coworkers, and customers for decades to come. It is our hope that Bryan continues to sharpen his skills as a nail technician and as a manager of several businesses in the years to come, and that he continues to receive the recognition he so rightly deserves.
If you would like to talk to Lauren Cueto, an account executive who helped Mr. Vu with his plaque orders, please call her at 1-800-548-3993 Ext. 3042, email her at: lcueto@inthenewsonline.com, or contact us.