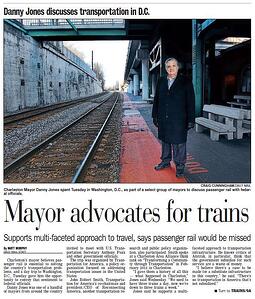 Odds are that if you live in West Virginia, you're already familiar with Danny Jones, the mayor of Charleston, WV. However, this man is more than just another politician. Throughout his life, Mr. Jones has been many things, bartender, Marine, sheriff, among others, but he has always been a proponent of doing what's right by the community at large.
The Restauratuer
In the nineties, Danny Jones was not a politician, but he was royalty. To the customers who visited his rib house, Danny was known as the "King of Barbecue," and for good reason. The future mayor would smoke the ribs to give them a succulent flavor, steam them to fall-off-the-bone tenderness, and coat them in a special sauce of his own making. While working in the restaurant business, Danny was dedicated to making sure his customers got to eat the best ribs that he could provide.
As Mr. Jones modestly states in his interview with WOWKTV, "it seems to go well." This is something of an understatement, considering that for the nearly twenty years that he's been out of the business, people have been asking after his ribs, wondering when they'd get another chance to eat them. Last October, residents of West Virginia were finally given the chance to try out the Charleston mayor's famous ribs.
It isn't Easy Being in Charge
However, it isn't just Mr. Jones' ribs that have earned him notoriety. After retiring from the restaurant business, Danny entered politics, eventually rising to the position of mayor in Charleston, WV. It is in this capacity that Mayor Jones is most commonly featured in the news as a public figure.
In recent months, the mayor has had to face many different challenges. An ardent supporter of public rail, Mayor Jones was one of a select few mayors from around the country to be given an audience with Anthony Foxx, the U.S. Secretary of Transportation, in order to discuss the importance of maintaining passenger rail infrastructure. As the federal government looks for areas to cut spending, Jones went to Washington to convince leaders not to slash funding to the railways that service Charleston and other cities across the nation.
In making the case for preserving railway infrastructure, Jones cited the increased use of rail transit in the years after 9/11. He recalled for the officials in Washington how the events of that tragic day "resulted in near-gridlock across the country," and that "if you remove train service from this country, you'd miss it." Train service is a critical means for transporting both people and freight across long distances quickly and efficiently.
The residents of Charleston in particular would miss the trains if they stopped running, as they are part of Amtrak's Cardinal route, which ferries passengers between New York City and Chicago three times a week, carrying well over 100,000 passengers per year. As a part of that route, the city of Charleston would be severely affected should the rail line be closed down. When Danny was in Washington fighting for the railroad, he was also fighting for the well-being of the citizens of Charleston.
Another recent challenge for the mayor came in the form of a major chemical spill in the drinking water supply of West Virginia. Shortly after the spill, the mayor was both asking and answering some hard questions, not least of which was how soon water would be restored.
Early after the spill, there was no specific timeline for when water would be restored, and many businesses had to remain closed because they couldn't open without a supply of clean drinking water.
Thankfully, officials in Charleston were able to organize distribution of bottled water from fire houses and other locations so that citizens would be able to meet their most basic water needs.
When the time came to hold those responsible for the damage caused by the chemical spill to not only the businesses that had to be closed, but to the citizens who had to go without drinking and bath water for days, mayor Jones lead the charge to find the accountable parties and recoup the damages.
An All-Around Good Person
On a more personal level, in an online article with the WVGazette, Jones talked about some of his personal challenges throughout his eclectic life that helped to shape him into the person that the people of Charleston know and love.
Throughout the interview, the mayor was frank, open, and honest in a way that you would never expect from anyone working in politics. Instead of glossing over his past, he freely admits to being human, to making mistakes and sometimes stumbling. However, he also picked himself up and continued to live and learn from these mistakes. While the mayor may, like any person, have some regrets in his past, he tells readers that "there is nothing in my life I would have changed," even if he could do it all over again.
He also talked about his recent battle with prostate cancer, and how his going public about his condition has helped to encourage other men to get their PSA levels checked. Early detection is a key part of fighting cancer effectively, as it is easier to treat early-stage cancers before they become malignant. By taking the initiative to share his story with others, Danny has helped more people than he could possibly know.
Throughout his extensive and eclectic life, Mayor Jones has celebrated many of his personal favorite stories by having them preserved in plaque form to share with his friends, family, and office workers. From his time as a restaurateur to the present day, whenever the mayor has a particularly memorable article that he is particularly proud of and wants to share with others, he orders a wooden plaque for his office.
Not only does he order plaques for himself, he also orders plaques as gifts for other people to enjoy and commemorate especially important moments. Whenever he orders a plaque for a friend, Danny goes out of his way to present the plaque to them himself.
The great thing about the plaques that Charleston's mayor has ordered is that they will last for decades to come so that he can share his story with friends and family for years to come. When Danny's children grow up, they'll be able to share stories about their father with their own children, along with proof af each and every tale in the form of a plaque featuring the news article.
For Danny, and many others, these plaques are a part of their legacy, something to pass on so that they will be remembered.
We hope that our favorite mayor of Charleston continues to be successful as he works hard to help the people of his city, and that he continues to enjoy the support of his friends, family, and coworkers.
If you would like to talk to Janine Crouch, an account executive who has helped Mayor Jones with many of his plaque orders, you can call her at 1-800-548-3993 Ext. 3022, or email her at: jcrouch@inthenewsonline.com. You can also contact us directly for more information about how to celebrate and preserve your favorite moments.