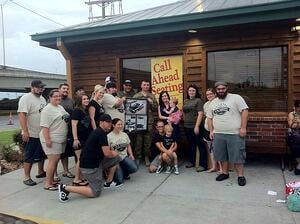 Friendship is something that makes life worth living. Whether that friendship is built on mutual interests or a chance encounter that grows into a lifelong bond of respect and trust, a true friend is something to cherish. Our service here at In The News has helped to make many friendships grow stronger, including the one between Billy Chiasson and Chris Stafford of Louisiana, who have commemorated their friendship with a plaque.
Both Billy Chiasson and Chris Stafford are members of the Severed Ties Truck Club, with Chiasson currently serving as that chapter's President. Founded in 1992, Severed Ties Truck Club is a nonprofit organization that is registered in the state of California, but has chapters across America and even in other countries such as Japan.
With small beginnings, Severed Ties proudly displays the brotherhood they stand for on their Facebook page. A gray diamond is used to represent their eternal community because, as it says on their page, "Diamonds are forever." Severed Ties is a registered "One Club, All Chapters" member of the Southern Nevada Mini Truck and Car Council. In 2006, the organization even served in the Northern California Custom Vehicle Council.
Severed Ties, also known as ST, stands for unity not only within their membership, but in their community as well. The "Purpose" section in their bylaws reads: "To bring together friends and family interested in show vehicles and related organized events, [and] to promote safety and the sane use of outdoors with the observance of State and National vehicle laws." Severed Ties not only assists with the annual ST Truck and Car Shows, but also organizes truck runs, road trips, cruise nights, toy drives, and even charity events.
While Severed Ties began in Nevada, Chiasson's chapter in Louisiana has a lot to celebrate as well. Chris Stafford, a soldier in the Marine Corps, was stationed in Afghanistan for some time. When he returned, his chapter pooled their resources together to give Stafford a plaque from In The News, not just to commemorate his return, but also to thank him for his priceless service to this country. Stafford was very grateful for the gesture of communal brotherhood that greeted him on his return. While this plaque was the first In The News purchase for Chiasson and the members of the Louisiana chapter of Severed Ties, Stafford himself is already familiar with our company because of a prior purchase he made while still stationed in Afghanistan last year.
The plaque itself features an article published in the October 2013 issue of Street Trucks Magazine, showcasing a show truck owned by Stafford himself. A group of over twenty members and family members presented Stafford with the plaque, creating a touching ceremony that demonstrated the close-knit nature of the Severed Ties community.
With a black wooden frame and silver trim, Stafford's truck and its accompanying article are neatly framed for all to see, serving as a proud reminder not only of his safe return home, but also of his extended family of Severed Ties members as well. This gesture brings together a community of members who not only love trucks, but also each other; showcasing the true meaning of brotherhood and family.
We hope that Chris Stafford and his friends continue to enjoy the close relationships that make organizations such as Severed Ties so much of a joy to be a part of. We know that whenever Stafford, Chiasson, or any other member of Severed Ties sees this plaque, they will be reminded of their sense of family. Thankfully, we also know that their plaque will last for decades, protecting the article, and their cherished memories along with it.
If you would like to learn more about our custom plaques, or need help with your own plaque order, contact us here or call 1-800-548-3993 for more information.