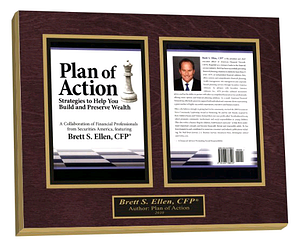 Here at In The News, we pride ourselves on being the choice for preserving your favorite news articles and stories so that you can proudly display them for all of your friends, family, and coworkers to enjoy. However, we know that we aren't the only game in town, so we wanted to see how we stacked up to other providers of article preservation and presentation.
To see how our services measure up to the competition, we took a look at the products as well the return policies offered by certain competitors and compared them to our own.
Products
There are a lot of options out there for getting your article preserved. Many of our competitors offer some of the things we do in our own product, but few can offer anything close to the complete package that we do.
Competitor Examples:
Article Frames: Some of our competitors merely put the article in a frame rather than actually sealing the article within a plaque. These fragile glass containers are not made to last, and are prone to breaking from any kind of stress, such as falling off a wall mount or desktop. Sample "low" price: $169.99 for a simple wooden frame.

Plaques: We have many competitors that offer many different styles of plaques. Some have simple wooden finishes without the option for engraving, many do not. While some have the option for two-page plaques, most have a one-size-fits-all mentality. Very few of our competitors carry anything like our crystalline acrylic plaques, and most refuse to give up-front pricing. A "minimum" price from one of our closest competitors for a basic, one-page plaque: $159.99.
In The News' Plaques
An article plaque from In The News compares very favorably to our competitors in every field.
Price: For our wooden one-page plaque with an engraving, the cost of our plaque is $139.00, which is less than what some competitors charge for just a frame to put an article into. Plus, we offer free shipping on our plaques when they ship within the continental U.S.

Variety: Our plaques come in a variety of sizes and styles that many of our competitors simply cannot hope to match. Not only do we offer wood stains in ebony, mahogany, walnut, natural, and whitewash, each with nine different trims, we also have crystalline acrylic plaques with four different trims and three different colors of mounting brackets. Plus, our plaques come in many sizes, ranging from one page size all the way to six pages. This means that you can have more than 340 unique combinations of plaque design options, not counting the engravings on each of our plaques or header options.

Durability. Unlike the simple frames some of our competitors offer, our plaques can withstand the shock of everyday accidents such as a tumble off of the office wall or desk. Glass shatters, but our plaques endure. Plus the articles in our plaques are sealed away from exposure to the air, so they'll last much longer than an article in a frame that can let moisture and oxygen get inside.
Services/Return Policies
With an In The News plaque, you satisfaction is guaranteed. When you make your plaque order with us, we do more than just read a submission form. In order to make your plaque as unique and personal representation of what you want, we will contact you directly over the phone or by email in order to get a complete picture of what you're looking for in your plaque design.
Once your order is complete, we ship you your finished plaque within 2-4 business weeks so that you can inspect it and be sure that you are satisfied with it. If you find that your plaque is not to your liking, there is no obligation to buy, simply notify us that the plaque is not satisfactory, and we'll send you a return shipping label. This is how confident we are that you'll love your plaque from In The News.
Many competitors skip over this process, or only send a "digital proof" of the final design, which may or may not accurately represent your finished product. Nothing beats being able to hold the finished product in your hands, to see the grain of the wood or the sheen of the acrylic in your hands, to feel and know the weight and dimensions of your plaque, it's just not something that a picture of a computer-simulated layout can give you.
For sheer selection of plaque styles, quality, and willingness to stand behind that quality, the choice is as clear as our crystalline acrylic plaques: In The News.
To learn more about our products or services, contact us today. Or, you can get started with your own custom plaque using the link below: