What is so great about a plaque? Everything. Not only can a plaque hang anywhere, it can also hold a lot of meaning. And when that meaning is something you hold dear, that plaque symbolizes your own success.
When Reverend Richard Flippin bought his most recent plaque, it symbolized a new milestone. The plaque portrays the ribbon cutting ceremony of his church, which was published in CrossRoads News on September 7th of last year. The Greater Piney Grove Baptist Church of Atlanta, Georgia, gathers much publicity, and has been published not only in CrossRoads News, but also in the Georgia Informer, On Common Ground News, and The Conductor. Less than a month later, on September 24th, they ordered their Mahogany and Gold plaque that is now displayed hanging proudly.
Custom Colors
The color scheme of mahogany and gold complements each other due to its synchronizing of being a wallflower and being adventurous. It is the shy explorer of color schemes. It states its presence with assertive dominance while sticking to its natural roots of neutrality. Both the colors of mahogany and gold can match almost anything in its environment, especially when placed in an office setting. The color scheme is both professional and stylish, accenting the walls of any room! This color scheme is also very dominant, as the gold represents the dominance of power while the mahogany is a subconscious reminder of humility.
Plaques For All Occasions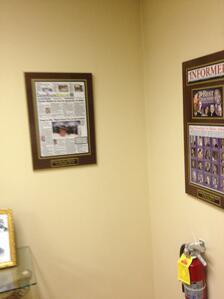 Reverend Flippin has not just bought a single plaque; he has purchased six plaques since he has become a customer of In the News on April 8th of 2011. They are all of his beloved church and its accomplishments. Reverend Flippin is dedicated to his church and its visitors. Both visitors and employees have expressed their love for the plaques; they represent the success of the church and thus its faith. The plaques have definitely impacted the church in a positive way; Reverend Flippin remarks, "[The plaques] speak volumes about the church," and that visitors love reading the plaques while waiting. Reverend Flippin has described the heartfelt emotion that each plaque holds. To him, each plaque is a reminder of his father's involvement in the community, as most of the plaques feature him. His father is the pastor of the church, and the plaques are sentimental reminders of what brings the family together, since Reverend Flippin and his brother are ministers with his brother being the pastor of his own church.
All of the plaques are displayed proudly upon the wall, showcasing the church and Reverend Flippin's father. And what does this mean to the owner of the plaques? It means that their achievements and recognition can be portrayed for everyone to see. Credit is deserved when an accomplishment is reached, and with so many publications that have showcased the church and the family, it is no wonder the plaques are very popular within the walls of the church. Plaques portray the pride of the organization that is featured in the plaque, and that is just what this collection of plaques does within the church; they make both guests and employees feel welcomed and proud to be associated with an accomplished organization.
Reverend Richard Flippin
If you would like to contact Reverend Richard Flippin with the Greater Piney Grove Baptist Church, he can be reached by phone or email, at 404-377-0561 and revrcflip@aol.com. They can also be found online at www.pineygrovebapt.org; and feature pages on Facebook and Twitter. Sitting on 1879 Glenwood Avenue SE, the church opens its doors to the community; the children are welcome as well, as the church holds many children's activities and Sunday School sessions. Their Sunday services are listed on their website.
With a vision statement that reads, "We will utilize our resources to provide a Christ-centered setting [with] people in this community…" they certainly focus on their community and what they can do to bring peace to their environment. Plaques definitely add to the peaceful atmosphere.
Their website describes the many core values that they believe in as a community. A plaque not only boosts the morale of the atmosphere, it can also synchronize with the core values of the organization or family and become a central statement or figure that symbolizes what they truly hold dear. The church's core values are as follows:
Trustworthiness
Enthusiasm
Humor
Communication
Positivism
Loyalty
Love
Integrity
Discipline
Respect
Commitment
Support

Peace
Versatility
Flexibility
Honesty
Excellence
Ability
Interpersonal
Relationship
Structure
Accountability
Passion
With every single one of these core values mixed together, it is truly a reflection of the beautiful community that the church respects themselves for. For every belief, they support with a supporting Scripture from the Bible. They also structure their belief system around a five pillar ministry of missions, fellowship, evangelism, teaching, and worship. Each of these pillars shows their open arms to those around them.
The church was organized in the year 1914 by Reverend Jenkins, in the humble beginnings of a house with only three rooms. Since then, it has become a beacon of hope and unity to their community.
The website provides more information on the church, its beliefs and mission, or how to connect with the organization.
If you would like to talk to Frank Moore, an account executive who has helped Reverend Richard Flippin with many of his plaque orders, you can call him at 1-800-548-3993 Ext. 3032, or email her at: fmoore@inthenewsonline.com. You can also contact us directly for more information about how to celebrate and preserve your favorite moments.