In The News Inc. is releasing an all-new style option for our popular 'Crystaline' acrylic plaque line! Our plaques now have the option of coming with a full black vinyl background, adding additional style choices for displaying and commemorating your proudest achievements, cherished memories, and favorite moments.
The introduction of our new all-black vinyl acrylic plaques adds a full-bodied modern and stylish alternative for your plaque design options, as well as a stark and elegant change in presentation. Colors and text preserved in the plaques will pop out against the chic enclosure of deep black vinyl, giving your accomplishments and memories a bolder display and statement in the minds of customers, friends, and family.
Our exciting and bold new black vinyl acrylic plaques are perfect for immortalizing your achievements and displaying your fondest moments. Equally at home in either the office or the house, these new black vinyl and acrylic plaques are a sleek, polished, and modern addition to any setting. Even better, they still provide the quality protection guaranteed with In The News' Crystaline acrylic product line.
Same Quality Design, Fresh New Look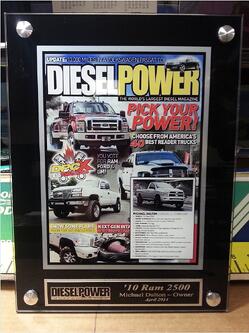 The new black-bodied Crystaline plaques feature the same high-quality and high-grade production exemplified in our existing Crystaline acrylic plaques, formed with vinyl, ¼" cast acrylic and mounted with aluminum anchor corners. The new black vinyl plaques feature the same border options as clear models, and mounting hardware comes in the same black or silver options.
These elegant new models have the same time-tested features that our clear Crystaline acrylic plaque series is known for. Using high-end exterior-grade materials, images are applied directly to the reverse side of the acrylic casting and onto the vinyl material, restricting images from shifting around on the acrylic; a problem commonly encountered with other plaque preservation processes. Our product is secured onto the acrylic as opposed to held loosely between two thinner sheets of plexi.
A Look at the Acrylic Process
Acrylic plaques, like those produced by Faulkner Inc., begin with a large sheet of clear cast acrylic that were created through a complex process of chemical mixing, molding, drying and sanding. Starting as a clear liquid chemical, the mixture is combined with resin powder and cast into a mold. Images are then printed and applied directly to the plaque.
With our new black vinyl product line, images are printed onto a sleek sheet of vinyl, just like the clear acrylic process, and the vinyl is then reverse mounted on the cast acrylic using water and pressure to create a seamless application. Each piece is then custom cut to size before being run through a diamond tipped edger.
From this step, customizable mounting standoffs are affixed to the final product, which beautifully display the customer's image and chosen documents and text with bold and head-turning quality.
The Protection of Crystaline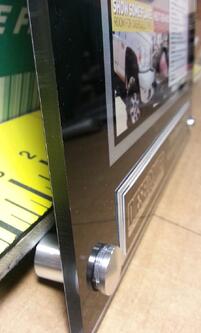 The In The News Crystaline process of acrylic preservation differs from other services in how the provided image is applied to the acrylic, and the same reliable process in creating the new vinyl-backed model. Where other methods of creating acrylic plaques press images and documents between two tightened pieces of acrylic, black vinyl Crystaline models are applied to the vinyl and acrylic, eliminating withering or movement over time.
As there is no physical paper in black Crystaline acrylic plaques, there is far less of a chance that fading or color damage will occur. The strength of our acrylic plaque creation process protects your prized accomplishments and memories from accidental damage or shattering much more effective than the more fragile glass frame or plaque options while weighing less.
The new black vinyl and acrylic plaques also feature the standard UV protection that has always been a part of the Crystaline product line. Boasting diamond-polished edges, as opposed to traditional flame-polished edges, Crystaline plaque models such as our exciting new black vinyl and acrylic are significantly sturdier and more reliable than plaques of the past.
In the office or at home, the bold black vinyl and acrylic Crystaline plaque is an undeniable attention-grabber, and can be tailored to a wide array of presentation options with its different mounting and border options. Now, you can give your greatest and proudest achievements the polished, sleek, and professional display they deserve, while being secure in the knowledge that they are in the highest quality protection and care available today.
About In The News
In The News Inc. has been in the professional press mounting business for over 25 years, and is the premier custom display manufacturer in the country. To get a taste of what your new black vinyl and acrylic plaque could look like, visit our quote web page for details or feel free to contact us about this exciting new addition to our Crystalline plaque product line!