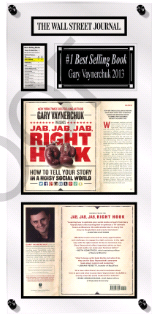 Some say people are "born with success," but when it comes to entrepreneur and husband Gary Vaynerchuk, success has been something he has worked tirelessly to achieve for his entire life. At the tender young age of eight, when others were still learning how to properly squeeze lemons, Gary was managing over a half-dozen lemonade stands in Edison, NJ. The young man's enthusiasm for business is something that he never lost, and his knack for finding a path to success has seen Vaynerchuk be immortalized in some of the most renowned publications in the world, including The Wall Street Journal, Inc. Magazine, The New York Times, and- naturally- Success Magazine. But how did this Russian immigrant, who came to America with nearly nothing, achieve world-wide recognition and eventually join the millionaires club?
Where it all began
As shown by his early childhood business successes, Vaynerchuk had a rare level of vision and talent for marketing and business. Sasha Vaynerchuk, Gary's father, opened the Shoppers Discount Liquors store in 1978, which was shortly after arriving from Russia. While Gary was merely three years old at the time, the Vaynerchuk family had no idea how that would shape and inspire the toddler in later years.
It seemed as though Gary was born a businessman. By the age of twelve, had become a local legend by selling baseball cards at the mall. After these early business ventures no one could deny that being a businessman was Gary's calling. While still in high school, Vaynerchuk joined the family business by working in the store. It was here that he developed a passion for collecting wine, a passion that he would share with the world, and find yet another path to success in the process.
WineLibrary and WineLibrary.com
Stemming from his love of wine, Vaynerchuk managed to have Shoppers Discount Liquors rebranded as the Wine Library. In 1997, Gary realized just how important and influential e-commerce was becoming to successful businesses, and he created WineLibrary.com to capitalize on the existence of the internet. This proved to be a pivotal move for the company as a whole.
Since the late nineties, internet sales and websites in general have gained an immense amount of exposure. Putting the liquor store online changed Gary's potential market from the general area in Edison, New Jersey to a worldwide market. That opened the door for incredible possibilities.
Within a matter of seven years- 1998-2005- Vaynerchuk grew the business from $3 million to upward of $45 million! Expanding his business through the use of an online site to reach new customers is not the only success Gary has had with the internet, however.
Wine Library TV
On Vaynerchuk's 30th birthday (November 14, 2005) yet another project was born. Wine Library TV was a podcast hosted by the wine-o himself. It debuted on February 21, 2006. The show consisted of wine tasting and other wine appreciation topics. Vaynerchuk would taste 3-4 wines and converse with guests on topics pertaining to wine.
The show was filmed in Gary's New Jersey liquor store every weekday and quickly earned a following of over 90,000 people every day. After 1,000 successful episodes, Wine Library TV retired in March 2011. Shortly thereafter Gary announced a new video blog, called The Daily Grape.
This video blog was a more condensed version of Wine Library TV. Here, Vaynerchuk would limit himself two wines, fewer guests, and answer less questions. Though short-lived, the show was such a great outlet and was loved by many. On August 23, 2011 he announced his resignation from his video blog. Though Vaynerchuk does not have a regularly-repeating podcast currently, he still says he prefers videos over the written word in his "About Me" section of his website.
Vaynerchuk, the author
March 2009 witnessed a new turn in Gary's career. After signing a 10-year book deal with HarperStudio for over $1,000,000, Vaynerchuk published his first book, Crush it! Why Now is the Time to Cash in on Your Passion in October 2009. The book is characterized by Vayerchuk's we-can-do-it attitude. Gary's statement is simple and earnest: all you need is passion, knowledge, and effort to create what he calls "sweat equity." His next point is that this "equity" and the internet were enough to build a strong business. The book was a huge hit. It opened on The New York Times' Hardcover Advice bestseller list at #2. The Wallstreet Journal named it #7 on their bestseller list. Once again, Vaynerchuk was building his brand and succeeding at a new endeavor.
Inevitably, Vaynerchuk took to the drawing board again and in March 2011 released his follow up to Crush it!, which he titled Thank you Economy. By this point the author/entrepreneur was becoming a household name. Once again he found himself #2 on The New York Times' Hardcover Advice & Misc. Bestseller List. This is yet another amazing accomplishment that only a select few get to achieve in their lifetime.
"I am driven by losing" is a memorable quote from Gary Vaynerchuk and one we can all take a lesson from. It is evident that he has been fueled his whole lifetime to aim high and to follow through with his dreams.
VaynerMedia
VaynerMedia was born in April 2009, and has quickly become a marketing sensation. VaynerMedia is a marketing firm that leverages social media as a powerful marketing tool. The company is primarily based in two locations, New York City and San Francisco, California. Since its inception, VaynerMedia has elevated itself into the social media branding spotlight and has partnered with companies in retail, sports, packaged goods, and entertainment.
By using the internet and social media to grow the exposure of these businesses, VaynerMedia is able to reach a whole host of potential clients and attract incredible traffic for said businesses. Just like WineLibrary.com expanded Wine Library's market immensely, online advertising through social media helps these businesses to grow.
Of course, there is more to Gary Vaynerchuck than his rather impressive business record. One thing everyone should know about Gary is that he is a devoted family man. It was at the age of 28 that Gary met his current wife, Liz Vaynerchuk. Appropriately enough, the couple met online via a dating site called JDate.com.
Another fact about Vaynerchuk is that he is self-motivated and highly driven. He is quoted saying, "I don't think you can hang with me for a long time without realizing I'm up to something big... Something's happening and it's not small." It is this mindset that has helped him reach the success he has achieved.
Recently, an article was published in The Wall Street Journal about Vaynerchuk's latest book, Jab, Jab, Jab, Right Hook. Vaynerchuk's wife Liz so kindly had it plaqued at Inside the News. This book is certainly groundbreaking and written by an overly credible source. The book talks about marketing by way of going where the people go and evolving with the times in terms of marketing.
Vaynerchuk states that while we used to rely on the radio and television to reach people, a new type of media exists now and it is the quickest way to get the word out about anything. The use of television, paper advertisements and radio is diminishing and their effects are weakening as our lives seem to center around the internet. Vaynerchuk notes this and the need to use this amazing worldwide resource to grow any business. The subtitle to the book is "How to tell your story in a noisy social world." Within the pages Vaynerchuk explains how he does this and how others can do it too. One of the biggest keys to creating a lasting brand is recognition and that comes with exposure.
Vaynerchuk said "we are in the fundamental gold rush of personal branding," and he certainly capitalized on it by "striking gold" a variety of times. With all of the constant change in the world it will be lovely for Gary and his family to be able to sit back and enjoy the acrylic plaque his wife Liz had made for him which highlighted his article in Wall Street Journal. By protecting this article, it will not yellow or have a chance of being lost or destroyed. It is forever a keepsake. Vaynerchuk can hang the plaque in one of his offices and look at it with pride for the rest of his life.
If you would like to have an important article plaque so that you may keep it safe forever, feel free to contact Danielle Matherson, who helped Mrs. Vaynerchuk place her order. Her email is dee@inthenewsonline.com.