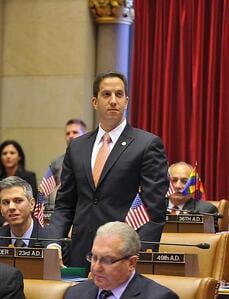 If you live in or near the 23rd District of Rockaway, New York, odds are that you are already familiar with New York State Assemblyman Phillip Goldfeder. An outspoken advocate to the citizens of New York, Goldfeder is known for putting the needs of others first.
When Super Storm Sandy wreaked havoc throughout the eastern seaboard, New York suffered especially severe damage. Not only did Sandy cause severe flooding in the streets and subways of New York, causing billions of dollars in damages, entire neighborhoods were wiped out as a result of damage caused by the enormous hurricane. Phil's own house was not exempt from the wrath of Mother Nature, suffering severe damage from the storm. Despite the damage to his house, Phil continued to work hard to help restore his district, his home town, to normal.
Doing What's Right by Others
In Breezy Point, Queens, which was leveled by a combination of fire and flooding, Goldfeder urged others to remember that even a year after the hurricane, there are still those who are struggling to get back on their feet after the storm destroyed their homes and livelihoods. Being committed to working for the good of the community and making sure that others don't forget about those in need has long been a characteristic of Goldfeder's work as an assemblyman.
If asked why he dedicates so much of his time making sure that the people of the community are taken care of, Phil would probably say that he gets it from his parents. As a boy, Phil's parents taught him how important it was to give back to the community and help those in need. Phil's father was a volunteer EMT (emergency medical technician), and although the elder Goldfeder was an important role model to Phil, Phil ultimately chose a different path than that of his father.
Instead of becoming an EMT like his father before him, Phil decided to try his hand at being a public servant. By doing so, Phil is able to give back to the community that helped to raise him in a way that is just as important as the service his father provided to the community. By using his position as an assemblyman, Phil is able to make certain that the larger political offices and organizations do not forget about the needs of the people in the Queens community that are a part of his district, such as after the aforementioned Super Storm Sandy incident, where Phil kept the community in the public eye by reminding others that "construction crews are still going to be working and our families in this community and communities in Broad Channel and Howard Beach and Hamilton Beach are still going to need help" during an interview with CBS New York.
By keeping the victims of disasters such as Sandy in the spotlight, Goldfeder is helping to ensure that they can continue to receive the support that they need in order to get on with their lives and eventually return to a sense of normalcy.
Of course, Goldfeder is there for the community on smaller issues as well. One of the local issues facing the community is a toll for the Cross Bay Bridge that burdens the taxpayers who have to cross the bridge daily to get to work. One of Goldfeder's primary promises when he took office was to work towards the complete repeal of the toll. While working towards a complete removal of the toll, Goldfeder has successfully established a rebate program for local residents, which will help to ease the financial burden of the toll road on local families until such time as the toll is completely removed.
A Member of the "40 Under 40" List
Although no stranger to media coverage, Phil has recently received a special distinction from City & State, who listed the young politician on their "40 Under 40" list, which denotes people to watch in New York who are rising stars in the community. Through his tireless work in helping the community that he represents, and his work for other politicians (such as Senator Chuck Schumer), Phil has set himself apart as an earnest, hard-working man who has the best interests of the community at heart.
When asked what he would do if he wasn't in politics by City & State, Phil replied that he "would probably be teaching… in my spare time I tutor for an organization for kids who can't afford tutors. I really love speaking to young people, and doing the best I can to pass on what I've learned." Even as Phil works for the good of the community as a whole, he still finds the time to help those who are most in need directly, giving the children who lack the financial advantages that others possess and giving them the tools to be successful academically, which also gives them a better chance of being successful later in life. By being a tutor, Goldfeder is giving these children a better future, one with more opportunities for prosperity.
Celebrating his Favorite Stories
To commemorate his favorite news articles and publications, Mr. Goldfeder decided to immortalize these stories in plaques from In The News. With these plaques, Mr. Goldfeder can share his favorite articles and stories with friends, family, and fellow politicians for decades to come.
The elegant wooden finish of Phil's plaques are perfectly at home in the office. With their sleek finish, professional engravings, and expertly designed layout, these plaque are a great addition to any office. These plaques even have the added benefit of giving newcomers to the office a chance to learn about the man from a selection of his favorite articles. Whenever someone new comes to Phil's office, they can read about all of the different projects that he has been a part of and get a feel for the wonderful personality of the energetic, outgoing assemblyman they are about to see.
In The News is proud to help such an outstanding citizen of the New York community celebrate his accomplishments so that he can share them with others. It is our hope that Mr. Goldfeder continues his work in improving the lives of his fellow New Yorkers, and that he continues to make positive headlines in the news.
If you would like to speak with Lauren Cueto, the Account Executive who helped Mr. Goldfeder with his plaque order, please reach her at 1-800-548-3993 ext. 3042, or email: lcueto@inthenewsonline.com. To learn more about the plaque creation process, contact us.