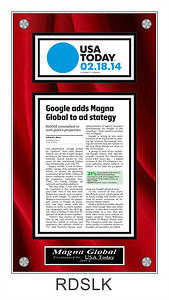 In a recent blog post, we talked about how a crystaline acrylic plaque with one of our new backgrounds could add variety and visual appeal to a professional space. What about the personal space? Can one of In The News' crystaline acrylic plaque backgrounds add color and variety to the home as well?
The short answer is a resounding "YES!"
Here's how:
Adding a Personal Touch to Your Featured Articles
Clear crystaline acrylic plaques are a great option for getting a modern, professional look for your featured article plaque. The clear background allows the designs of your walls and other decorations behind the plaque to show through clearly, letting it blend in almost seamlessly with whatever décor you have in the home.
However, what if you want to have a more personal touch added to your article? What if you wanted to make something loud, proud, and funny to show to your friends?
With one of our new acrylic plaque backgrounds, you can easily add that personal touch to your featured article plaques for the house.
For example, a bright yellow color gradient background can brighten up not only the plaque itself, but add a sense of energy to the room and draw attention to your new display piece so that guests take notice. Another attention-grabbing design is the bamboo background, which is as unconventional as plaque designs get while adding a sense of fun to the piece (and helping to highlight tropical tales in an interesting fashion).
The truth is, with an acrylic plaque background, you have more freedom to choose the perfect background for an article that fits your personal style or your article's content.
Fun, Creative Backgrounds for Multiple Occasions
From bright color gradient backgrounds, to faux metal and nature-themed patterns, there are numerous backgrounds for you to choose from to get the look of your acrylic plaque just right for you.
Which background should you use? Well, that decision is up to you. This will be your plaque to hang in your personal space where you can see it every day and show it off to friends and family. That being said, here are a few suggestions you might like for different types of articles and display settings:
The Garage. Many of In The News' customers are automotive enthusiasts. Some of our favorite clients have been featured in prestigious auto magazines for their custom car and motorcycle work, as well as period-correct restorations and mods. In a garage space where serious metal (and fiberglass) work has been done, what could be more natural than a stamped metal background for your featured article?

The Home Office. Have a personal retreat where you like to focus on serious tasks and paperwork? Add some gravitas to the space with a professional-looking granite or green marble background on your plaque.

Matching Colors to Pictures. Putting a featured article from a magazine on display? When the content is very visual, matching the colors of the frame to the picture can allow the plaque itself to complement the visual appeal of the pictures from the magazine. A bright red hot rod's picture would be perfectly encapsulated in the red gradient background, while a picture of a white wedding cake or a bride and groom from a wedding would look splendid against a white marble background.

Contrasting Colors. Instead of trying to complement and blend the colors in the frame with the most prominent colors in the article, you could do the exact opposite. Contrasting colors can help to bring out the pictures in an article and give them more visual pop and draw attention to the contents.
These are just a small handful of ideas for creating a display out of your featured article. Whatever you do with your crystaline acrylic plaque, the staff here at In The News is here to help you with the plaque creation process. If you have any questions about how to turn your featured newspaper, magazine, or online article into a plaque to share with friends and family, contact In The News today.