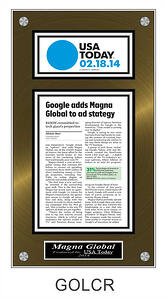 Recently, In The News launched a new line of backgrounds for acrylic plaques to complement and enhance the appearance of your acrylic background plaques. With 30 different backgrounds for you to choose from, you're sure to be able to find the perfect plaque design to bring your story to life.
Why Use a Background?
One of the biggest features of a crystaline acrylic plaque is the fact that it is clear. Because of this, the crystaline plaques from In The News can be mounted almost anywhere and fit right in with the décor. This makes the clear plaques highly versatile, equally at home both in the office and the house.
However, while many people might want a plaque that blends in, others might want a plaque that draws attention and speaks to their own unique personality. For these customers, a plaque background is more than just a choice, it's a means of expressing oneself.
Even in a professional setting, a creative, fun background can be an excellent addition to your plaque. With an interesting background, a plaque will draw an office visitor's eye to it, calling attention to the plaque, and ultimately, the story preserved within the plaque. On the other hand, a simpler, more somber background for the plaque, such as one of our faux wood options, can combine the classic professionalism of a wood plaque with the modernity of an acrylic plaque.
Quick Tips for Choosing the Right Background for Your Office Plaque
Having 30 different acrylic plaque backgrounds to choose from gives you a plethora of options for your plaque's design. With this in mind, we here at In The News wanted to offer some advice for choosing the perfect plaque background for your next article for your office:
Consider Your Business. When checking out the different plaque backgrounds that are available for your office, keep an eye out for plaques that evoke images of your company's industry or business. For example, a manufacturing company that works with sheet metal might be a great place to hang a plaque with one of our metal backgrounds, while a water background would work better for a pool or plumbing company.

Consider the Article. What is the article itself about? One easy way to add personality to an article and convey what it's about is to people who are seeing it for the first time is to pick a background that is relevant to the content. For example, an article about fashion design could be well complemented by a fabric style background, such as silk or denim.

Consider Your Guests. What kind of clients visit your office on a regular basis? Are they somber and serious types who expect a professional environment, or are they typically more casual and relaxed types? Picking a plaque background that matches the mood of your office visitors can go a long way towards making them feel welcome and at ease.

Consider What You Want. A big part of choosing a background for an acrylic plaque is to express yourself. While visitors and guests may see your plaque from time to time, if it's in your office, you'll be the one to see it most of the time, which is why it's important to pick a background that you'll love. This is your chance to personalize your space with a plaque about your accomplishments, so go nuts.
Have fun, be serious, or find some middle ground by using one of In The News' new backgrounds for your next crystaline acrylic featured article plaque!
If you have any questions about our new backgrounds for acrylic plaques, such as the varieties available or how you can get one for your next plaque, contact In The News today! We'll be more than happy to help you.