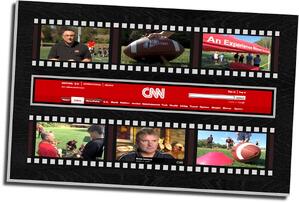 Here on the In The News blog, we typically talk about featured article plaques, plaques that contain a print publication article from a magazine or newspaper organization that highlights the feats of a person or company. The articles in these plaques are a badge of honor for the subject, preserving the memory of a great accomplishment.
However, there are many more things that can be made into a plaque besides newspaper and magazine articles. Today, we wanted to talk about how you can make a plaque of a screenshot from your favorite video.
What Kind of Videos can be preserved in a Plaque?
With our Screenshot Wall Displays, you can create a display of your favorite moments from the following video types:
YouTube

Vimeo

Television (may require recording of video content)

Vine
Basically, if you can create a screenshot and save it as a picture file, we can turn that screenshot into a custom wall plaque.
Why would you want to make a plaque of a video screenshot? For example, say that you were interviewed by a major TV news organization, a picture of you talking with a famous newscaster is the picture that would be worth a thousand words. With such a custom wall display, you could share the story with all of your friends and family with ease.
Another reason you might want to create a screen capture plaque might be to celebrate a personal milestone on YouTube, Vimeo, Vine, or some similar video sharing site, such as your 100th video or your first video to reach a certain number of views, likes, or shares. With such a plaque, you could share this moment with your friends and family for years to come.
How to Create a Screenshot Plaque
To create a screenshot plaque, simply capture an image of your favorite moment or moments from your video and complete a custom plaque design request, with a notation that you want to use a custom image. The higher the resolution of this image, the better.
After we receive your plaque request, your In The News account representative will check to make sure that the images received are usable for a plaque. If the image is usable, then we can get to work preserving it in a plaque just for you. If not, we'll notify you right away so you can send a higher-resolution image.
While some people might only want to use a single image, others may want to use more than one image for their custom wall display. It isn't uncommon for a screenshot wall plaque to have five or six images featuring noteworthy moments from the video in question.
Please note that if your video screenshot contains copyrighted images that are not owned by you, we may need to acquire the permission of the original copyright holder in order to create a plaque containing such images.
Choosing a Plaque Type
Once you've settled on which video you want to commemorate and which screenshots to use, it's time to make a decision regarding what kind of plaque you want to make: Wood or Crystaline Acrylic.
Wood plaques are great for giving the plaque a tangible presence in the room, and add a certain amount of weight and professional atmosphere to the images contained within. This makes a wood plaque great for screenshots of news stories and interviews. With several different stains including natural, ebony, mahogany, and whitewash, you can create a custom wall plaque that will mesh well with your home or office's décor.
Acrylic plaques, on the other hand, feature a clear body that blends almost seamlessly with its surroundings. This makes the acrylic plaque nearly perfect for display almost anywhere, making it great if you're planning a move sometime in the near future and want decorations that will fit right in. With acrylic plaques, you also have the option of using one of 30 different background patterns to frame your images and make the plaque stand out more if you want.
Whichever kind of plaque you want to use to preserve your favorite moments from your online videos, In The News is here to help you. To learn more about screenshot wall displays, contact us today, or check out the link below.