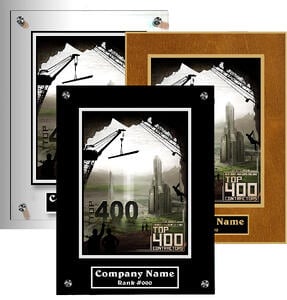 For years, In The News has helped countless people immortalize their achievements as featured in major news publications by sealing their featured articles in custom plaques. As each and every person's story is unique, so too are their plaques.
During the plaque creation process, our customers have to make many choices regarding the construction of their plaques, such as:
Plaque Size. From single article layouts to enormous six-page plaques that demand attention, customers can put their long articles onto a single plaque, or split it up among several smaller ones.

Borders/Trim. Each plaque has the option to add a colored line to the outside edge to help the plaque grab attention and help make articles pop.

Engravings. From custom logos to headline summaries, each plaque from In The News can be fitted with a custom engraving to help tell everyone who sees a plaque what it's about.

QR Codes. For plaques being displayed in a business, the addition of a QR code that allows people to scan the plaque with their smartphones and be taken directly to your site is a big bonus.
However, before customers make any of the above choices, they first have to pick what kind of plaque they want: wood, or acrylic?
Reasons to Get a Wood Plaque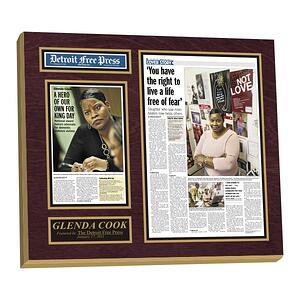 As a material for plaques, wood is great because it is strong and sturdy, while also being classic and businesslike. In fact, for many who are touting a major business achievement that was covered in the news, wooden plaques are the perfect way to show off such accomplishments while maintaining a professional atmosphere.
Wood plaques come in a variety of different stains, including ebony, mahogany, walnut, whitewash, and natural. For many business settings, the mahogany and walnut stains are a popular choice, as their earth-tone coloration fits in well with classic office décor.
In addition to possessing a muted dignity and built-in level of appropriateness for display in an office, these plaques are tough enough to take a beating from the occasional drop or spill, preserving the article inside from harm.
Reasons to Get an Acrylic Plaque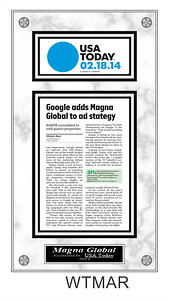 Just like wood plaques, In The News' acrylic plaques help to keep the articles contained within safe from harm while putting them proudly on display. These plaques can take a drop just as well as a wooden plaque, and are built to last.
For a long time, In The News' acrylic plaques were primarily available in either clear "crystaline" or black background varieties. However, we have recently added a bunch of new background options for our acrylic plaques, bringing the total number of colored backgrounds to 30 (not counting clear). With all of these backgrounds, you're sure to find the perfect one to accentuate your article and personality.
With colorful, fun new options such as the fabric-themed denim background or the nature-themed water background, acrylic plaques give you more freedom to express yourself creatively in your featured article plaque than ever before.
For a more professional setting, the clear and flat black backgrounds make for a great addition to the office. The black background is somber and serious, while the crystaline acrylic background blends right in with the surrounding décor almost seamlessly.
Choosing Between the Two
The hard part about choosing which type of plaque to get is that both types are so good. Ultimately, your choice of plaque type and background will come down to your personal preference and the question of: "what do you want your plaque to say to people?"
Do you want a plaque that will grab attention and make people smile, or do you want to create an air of professionalism that helps to convince those who come to your office of your capabilities and professionalism before they ever even talk to you?
Whatever type of plaque you get for your home or office, make it one that you'll love!
To learn more about our acrylic and wood plaques, try out our plaque creation process today.