Make Your Covers & Features Last Forever
Magazine covers and feature layouts are all part of the game in the Adult Industry. Whether it's Penthouse, Playboy, AVN, Hustler, XBIZ Premiere or any of the other dozens of print magazine - this is the best way to gain exposure and market yourself to your fans. Why let those features fade away. I have been making wall plaques for Adult Stars, Director, Production Companies, etc. for over a decade.
Instead of letting those covers get trashed or lost - we can make you a professional, preserved, display copy of your magazine feature.
We can mount:
Magazine covers
Feature Layouts
DVD Jackets/disk
Awards
Showboard for signing booth
If you have a favorite cover or feature that you would like to preserve and display - please contact me for a free digital mock-up and quote. Have another idea for a project? I'm all ears - when it comes to the mounting and display services we can provide, the sky is the limit.
Nikki Benz - Pet of the Year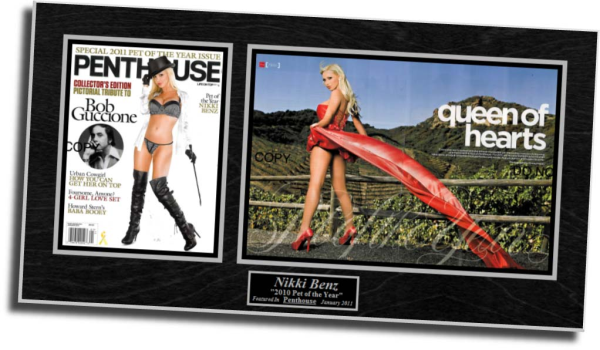 Comments - Have we done a great job for you already? Tell us what you think!